Wadaiko - Kenichi Koizumi Trio - Africa Concert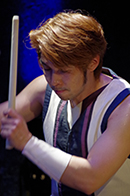 The Japan Foundation will host a concert series of Japanese music featuring a trio led by the Wadaiko performer Kenichi Koizumi. Concerts will be held in Malawi (Lilongwe), Zambia (Lusaka), and Egypt (Cairo).
In addition to Kenichi Koizumi on Wadaiko, the trio will feature Naomi Koizumi on Shinobue, and KEIKO performing Wadaiko and dance. The performance will present both dynamic and delicate compositions based on the motifs and expressions of traditional Japanese music, along with other original compositions. In Malawi and Zambia, the concerts will be held to commemorate the 50th anniversary of independence, and the 50th anniversary of the establishment of diplomatic relations with Japan respectively. Furthermore, workshops for local youths are scheduled to be held in each country.
Outline
Malawi (Lilongwe)

| | |
| --- | --- |
| Date | Saturday, August 30, 2014 6:00 p.m. |
| Venue | Crossroads Hotel |
| Organized by | The Japan Foundation, Embassy of Japan in Malawi |
Zambia (Lusaka)

| | |
| --- | --- |
| Date | Tuesday, September 2, 2014 6:00 p.m. |
| Venue | Intercontinental Hotel Lusaka |
| Organized by | The Japan Foundation, Embassy of Japan in the Republic of Zambia |
Egypt (Cairo)

| | |
| --- | --- |
| Date | Sunday, September 7, 2014 8:00 p.m. / Monday, September 8, 2014 8:00 p.m. |
| Venue | Cairo Opera House |
| Organized by | The Japan Foundation, The Japan Foundation,Cairo |
Performer Profiles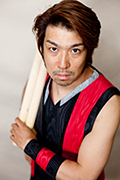 Kenichi Koizumi (Wadaiko)
Kenichi Koizumi began learning Wadaiko (Japanese drums) at an early age and started full-fledged drum-related activities at the age of 18.
He subsequently studied under Eitetsu Hayashi, the leading Wadaiko performer, and in 1999 he became a member of Eitetsu Fuun no Kai, a group produced by Hayashi.
In 2003, he traveled to Australia to study music, where he learned numerous forms of musical expression. After returning to Japan, he has focused on extending his solo career, and performing together with a wide range of other artists while active both in Japan and overseas.
In recent years, he has also begun holding workshops and providing compositions for drumming groups.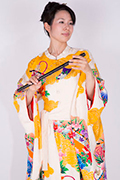 Naomi Koizumi (Shinobue)
From the age of three, Naomi Koizumi started to receive aural training, beginning with lessons on the electric organ.
In 1985 she joined the Wadaiko group WAKKO in Yawata City, Kyoto Prefecture, as one of its founding members. She also began to learn the Shinobue (Japanese bamboo flute) during the course of her performances. Beginning in 1995, she studied the Shinobue and Ryuteki (medium-pitched Japanese bamboo flute) under Kourei Deguchi, a master of both of these instruments, and others.
Beginning in 2000, she studied the Nohkan (high-pitched Japanese bamboo flute or Fue, or Noh flute) under Ryo Noguchi, a Noh flute player of the Morita School. In 2014 she joined the ASKA Japanese Drum Troupe on a nationwide tour of Russia. She is currently active both domestically, primarily in Tokyo and Kyoto, and internationally throughout Europe and Asia. She also teaches the Shinobue and provides compositions for ceremonies at shrines.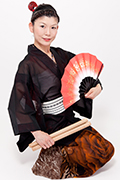 KEIKO (Wadaiko, dance)
KEIKO started learning classical ballet from the age of four and first encountered Wadaiko at the age of 17.
In 2000 she took her first steps on the stage at the Tokyo Metropolitan Theatre. In the same year she started to learn Japanese classical dance and sought to develop her own unique musical performance technique incorporating dance movements.
From 2002 she began giving solo performances throughout Tokyo at various live venues, while also collaborating with numerous other performers. She also performed at schools and preschools in order to communicate the joys of Wadaiko to children. In recent years, she has formed a Japanese drumming group for children, and is working to teach the next generation of performers.
[Contact Us]
The Japan Foundation
Europe, Middle East and Africa Section, Arts and Culture Dept.
Person in charge: Onodera
Tel: +81-(0)3-5369-6063 Fax: +81-(0)3-5369-6038
E-mail: Yuka_Onodera@jpf.go.jp
(When sending an e-mail, please enter a half-width character "@" instead of a full-width character "@.")