Japan Invited to Latin America's Largest Arts Festival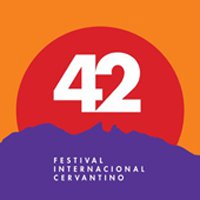 The Festival Internacional Cervantino, renowned as the most important festivals of arts and culture in Latin America, opened on October 8 in the city of Guanajuato, Mexico. To celebrate the 400th anniversary of the arrival of the Hasekura mission in Mexico and to commemorate Japan-Mexico exchange, Japan was selected as the guest country for the 42nd edition of the festival this year.
Under the theme WA, which means "harmony" and "peace," Japan will put up a wide range of Japanese performing arts ranging from traditional arts to contemporary music and dance. There will also be screenings of Japanese films as well as exhibitions. This event serves as an invaluable opportunity to showcase Japan's strengths in arts and culture, and to introduce them to arts aficionados from Mexico and all parts of Central and South America. It is expected that the focus on Japan at the Festival Internacional Cervantino will contribute to further enhancing mutual understanding between Japan and Mexico, built up over 400 years, and to promote extensive exchanges with a view to the future.
Schedule
About the Festival Internacional Cervantino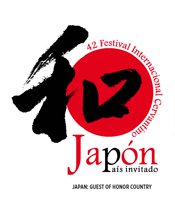 The Festival Internacional Cervantino, held in Mexico, is the most important festival of arts and culture in Latin America. The inaugural festival was held in 1972 to pay homage to Miguel de Cervantes, the author of the world-renowned Spanish literary work, Don Quixote, and to provide a space for artistic creation amongst the Spanish-speaking countries. Since then, the festival has been held in October every year at the historical city of Guanajuato, which is registered as a UNESCO World Heritage Site. Events covering various artistic genres are held during this festival, including music (classical, contemporary, pop, and folk music), opera, theater, dance, art, film, and literature. The event has its 42nd edition this year.
This arts festival is graced by artists from around the world, and it is said that there are few countries that have never participated in it at least once. It is also covered widely by the mass media, and news about the festival, as well as editorial and review articles, appear in the culture sections of Mexico's various newspapers almost every single day. Commercials for the festival and live broadcasts of the performances are also shown on television.
This is the second time that Japan has been selected as the guest country, after its first invitation to the 33rd festival in 2005. During the visit by Mexico's President Enrique Peña Nieto to Japan (April 2013) and Prime Minister Abe's visit to Mexico (July 2014), the two countries reaffirmed their commitment on cooperating to make this feature on Japan a success.
Special performances and programs by Japan
Performances and workshops
programs
Date and time
Venue
Performer(s)
Genre
Organizer/
Support


(JF: The Japan Foundation)

Oct 8 (Wed), 20:00
Explanada de la Alhóndiga
Tokyo Dageki Dan
Japanese drums
Supported by JF
Oct 10 (Fri), Oct 11 (Sat), 19:00 on both days
Plaza San Fernando
Kumotaro Mukai
Contemporary dance
Oct 10 (Fri), Oct 11 (Sat), 20:00 on both days
Auditorio del Estado
Rhizomatiks × elevenplay
Film, Contemporary dance
Supported by JF
Oct 11 (Sat), Oct 12 (Sun), 14:00 on both days
Ex Hacienda de San Gabriel de Barrera (Fuente de las Conchas)
Urasenke Tankokai Mexico Association, Soho Higurashi (tea master), Yoshiko Nishimura (koto player)
Japanese tea ceremony
Oct 12 (Sun), 12:00
Salón del Consejo Universitario
Takae Ohnishi
Music
Oct 14 (Tue), 18:00
Teatro Cervantes
Hachioji Kuruma Ningyo, Koryu Nishikawa Troupe
Traditional arts
Supported by JF
Oct 15 (Wed), 17:00
Templo de la Compañía
Next Mushroom Promotion Ensemble
Music
Supported by JF
Oct 17 (Fri), 12:00
Templo de la Valenciana
Ensemble Nomad
Music
Oct 17 (Fri), 17:00
Templo de la Compañía
Mari Kodama, Momo Kodama
Music
Oct 17 (Fri), Oct 18 (Sat), 18:00 on both days
Teatro Cervantes
Chelfitsch
Theater
Oct 17 (Fri), Oct 18 (Sat), 20:00 on both days
Auditorio del Estado
Akira Kasai Dance Company
Contemporary dance
Oct 18 (Sat), Oct 19 (Sun), 12:00 on both days
Ex Hacienda de San Gabriel de Barrera (Fuente de las Conchas)
Vladimir Avatin (Origami workshop)
Origami
Oct 22 (Wed), 21:00
Teatro Juárez
Bach Collegium Japan
Music
Oct 23 (Thu), 21:00
Teatro Juárez
Ryu Goto
Music
Supported by JF
Japanese films
programs

| Date and time | Title |
| --- | --- |
| Oct 13 (Mon), 12:00 | A Black Cat in a Bamboo Grove, (Director: Kaneto Shindo) |
| Oct 14 (Tue), 12:00 | Yearning, (Director: Mikio Naruse), Patriotism, (Director: Yukio Mishima) |
| Oct 15 (Wed), 12:00 | Ornamental Hairpin, (Director: Hiroshi Shimizu) |
| Oct 16 (Thu), 12:00 | Ningen, (Director: Kaneto Shindo) |
| Oct 17 (Fri), 12:00 | Zatoichi, (Director: Takeshi Kitano) |
| Oct 18 (Sat), 12:00 | Floating Weeds, (Director: Yasujiro Ozu) |
Venue: Auditorio Euquerio Guerrero (Universidad de Guanajuato)
Exhibitions
Proyecto JAPÓN-Joint Exhibition by Miho Hagino and Taro Zorrilla
Venue: Museo Casa Diego Rivera
Projects Supported by the Japan Foundation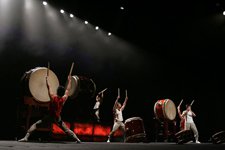 Photo by Masato Fujita
Wednesday, October 8, 20:00 Explanada de la Alhondiga
Tokyo Dageki Dan is a band of percussionists founded by Jin-ichi Hiranuma in 1995. Their energetic and dynamic Japanese drum performances have enraptured audiences around the world. After performing at the festival, they will embark on a tour spanning a total of about three weeks, performing and conducting workshops in 10 cities across Mexico. Tokyo Dageki Dan aims to build a foundation for popularizing Japanese drums in all parts of the world.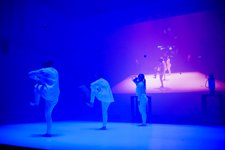 Photo by Ryuichi Maruo YCAM
Friday, October 10, Saturday Oct 11, 20:00 Auditorio del Estado
This performance is a collaborative effort between the creative group Rhizomatiks, which has talents in diverse fields including design, art, architecture, mathematics, and engineering, and elevenplay, a dance company led by choreographer MIKIKO. In this performance, they combine film and dance to produce a novel form of expression. The performance will also be presented at the International Digital Creation Festival (Mexico City), as well as in two cities in Northern Coahuila.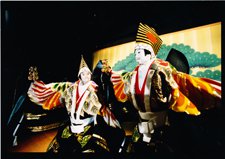 Tuesday, October 14, 18:00 Teatro Cervantes
Hachioji Kuruma Ningyo is a form of art that has been passed down from the Edo era, and has been designated as an Intangible Folk Cultural Property by the Japanese government. The Koryu Nishikawa Troupe has performed actively overseas, and continues to capture the hearts of many fans around the world. For this Mexico tour, it will be putting up performances for the general public, as well as conducting lectures, demonstrations, and workshops for young students who aim to take up the theatrical arts.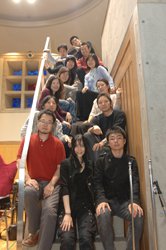 Photo by Tetsuaki Oda
Wednesday, October 15, 17:00 Templo de la Compañía
Next Mushroom Promotion Ensemble was formed in 2001 through the initiative of composer Tomoko Fukui, and with the cooperation of composer Motoharu Kawashima and clarinetist Nozomi Ueda, with the aim of revitalizing the contemporary music scene, particularly in the Kansai region. The group's name was chosen because of an anecdote about the contemporary American composer, John Cage, who had a liking for mushrooms because in the dictionary, the next word coming after "mushroom" is "music."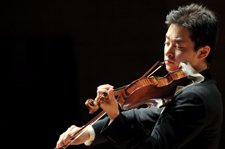 Photo by E. Miyoshi
Thursday, Oct 23, 21:00 Teatro Juáez
Ryu Goto (b. 1988) is an international violinist based in New York. He often takes time from between his performances around the world to play an active role in social contribution and education activities. At this festival, he will perform with the Orquesta Sinfónica de la Universidad de Guanajuato (University of Guanajuato Symphony Orchestra), and hold joint recitals with Mexican pianists in León, Monterrey, and Mexico City. He will also mingle and interact with young music-lovers through school visits, and master classes at music colleges.
[Contact Us]
The Japan Foundation
Americas Section, Arts and Culture Department
Person in charge: Kato, Kurata
Tel: +81-(0)3-5369-6061