"Shuichi Hidano Super Taiko Concert" to be Held for the Hosting of TICAD VI Kenya
The Japan Foundation will hold the "Shuichi Hidano Super Taiko Concert," featuring the taiko drummer Shuichi Hidano, in Nairobi, Kenya.
The Sixth Tokyo International Conference on African Development (TICAD VI) will be held for the first time in Africa in Nairobi, Kenya on Saturday, August 27 and Sunday, August 28, 2016. In celebration of the TICAD VI, the concert will be held with a lavish lineup that includes the internationally renowned taiko drummer Shuichi Hidano, the foremost Tsugaru shamisen player Shinichi Kinoshita, Keisuke Doi, one of Japan's leading shakuhachi players, and the young taiko performer Issai.
This concert will help increase the momentum of the conference and will have a great appeal of traditional Japanese taiko drums to the audience in Kenya.
Overview
Outline

| | |
| --- | --- |
| Date | Friday, August 26, 2016 7:00 p.m. |
| Venue | Alliance Française, Nairobi |
| Organized by | The Japan Foundation, Embassy of Japan in Kenya |
Performer profiles
Shuichi Hidano (Taiko drummer/producer)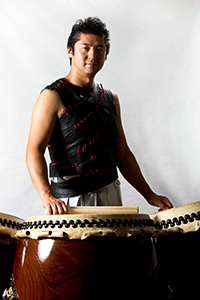 Shuichi Hidano made his debut as a taiko drummer in 1989 and has performed more than 2,700 times around the world (40 countries besides Japan). In 2010, he joined Stevie Wonder's Asia Tour. In 2014, he performed at the International Jazz Day in Osaka, which organized by the UNESCO, as a member of Herbie Hancock All Star Band alongside Wayne Shorter and Marcus Miller. This performance was broadcasted live in 190 countries and viewed by more than 1 billion people. In 2015, he was dispatched to Korea by the Japanese government to perform at the event commemorating the 50th anniversary of normalization of relations between Japan and Korea. In the same year, he also gave concerts in five countries in Central America (Mexico, El Salvador, Panama, Nicaragua, and Guatemala) as part of the events for the Japan-SICA Friendship Year 2015. In February 2016, he performed at the opening ceremony of the ball hosted by IAEA (International Atomic Energy Agency) in Vienna, at the request of the Japanese government, and earned high praise from 4,500 guests, including government officials, from over 100 countries. He has performed at the official closing ceremonies of the FIFA World Cup for three times.
http://www.hidashu.com/
Shinichi Kinoshita (Tsugaru shamisen player)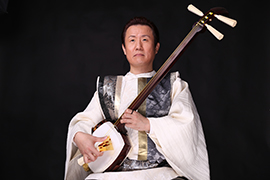 Shinichi Kinoshita was born in 1965 in Wakayama Prefecture. He learned Japanese folk music at an early age under the influence of his parents, who were both performers, and his father began teaching him the shamisen at the age of three. He then began learning the Tsugaru shamisen style from his father in earnest from the age of 10, and later studied under Toshinori Kyogoku and Junichi Fujita. He went on to win the all Japan Tsugaru Shamisen Competition for two years in a row in 1986 and 1987.
From that period he began performing widely in collaboration with numerous other musicians.
In 2002, he was sent by the Japan Foundation to perform the "Shinichi Kinoshita Tsugaru Shamisen Concert" series in five Central and South American countries, Cuba, Panama, Argentina, Uruguay, and Mexico. Other activities and accolades include being a recipient of the Wakayama Prefecture Culture Award, an appearance in the film Overdrive in 2004, a performance in London, England, a performance at the Mt. Fuji Jazz Festival, and the release of his 5th album Passion!. In 2011, he performed a special concert for the 45th anniversary of the National Theatre, which thrilled the audience with a diverse program including singing and playing the shamisen as well as sessions featuring western style music. In 2013, his Shinichi Kinoshita Unit performed in the three European countries of Portugal, Azerbaijan, and Uzbekistan. He released the album Tsugaru Shamisen HAKU in 2016.
Shinichi Kinoshita official website: http://www.kinoshitashinichi.com
Keisuke Doi (Shakuhachi player)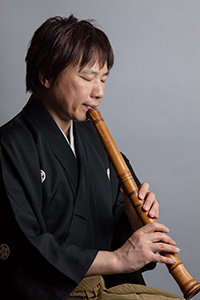 Keisuke Doi was born in Okayama Prefecture and grew up surrounded by Japanese traditional music under the influence of his grandmother and mother. He studied the Kinko school of shakuhachi under Seido Ono, and the Koten Honkyoku classics under Katsuya Yokoyama. He studied composing and arranging under Eiji Kitahara, and went on to study composition, arranging, improvisation, classical harmonics and counterpoint.
He has appeared in numerous TV and Radio programs as a player. He has performed in such countries as the U.S., Germany, and Korea. He has served as a part-time shakuhachi instructor in the music department at Kurashiki Sakuyo University. He joined the taiko drum group of Eitetsu Hayashi in 1998 for their performance in Moscow. He also continues to perform as part of the "DoT." duo with pianist Kensaku Tanikawa, as well as his own group and various sessions. He has provided compositions to the Dairakudakan dance group, founded by butoh dancer Akaji Maro, since 2007. His protean approach to composition that carries the source of traditional Japanese music through the present and into the future draws audiences into the magnificent time and space of the Dairakudakan performances. He also composes for film and stage in his pursuit to create his own original world of music.
Issai (Taiko performer)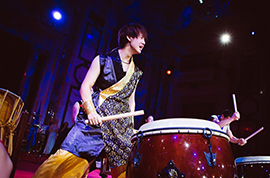 Issai was born in March 1997 in Kanagawa prefecture. Influenced by his father, Issai began playing the taiko drums at the age of one and a half years, and he went on to join the Yokohama Tsuduki Taiko group at the age of eight, with which he performed in numerous events as a central member until leaving the group in 2014.
He has also performed on many major stages and at many major events as a taiko performer, including the official opening ceremonies of the FIFA U-20 Women's World Cup Japan 2012 (Miyagi Stadium) and the send-off event for the Japanese Olympic Team for the 2012 London Olympics (Yoyogi 1st Gymnasium). He has performed every year at the summer stadium events for Japan's top idol group Momoiro Clover Z since 2014. He has toured with Shuichi Hidano in Taiwan and Korea in March 2014, and in September 2015 for the commemorative ceremony of the 50th anniversary of the normalization of relations between Japan and Korea in Seoul. He participated as a central member of the Japanese instrument performing team for the five country tour of Central and South America and Mexico in November 2015 entitled "Shuichi Hidano & Taiko Masters 2015," and in a five stadium tour with Japanese top boy band Arashi in November and December 2015. He performed at the opening ceremony of the ball hosted by the IAEA in Vienna in February 2016. He is currently a member of the popular young professional taiko group "SAI" where he carries out passionate and energetic performances throughout Japan.
[Contact Us]
The Japan Foundation
Arts and Culture Dept., International Operations Section II
Persons in Charge: Onodera (Ms.), Suzuki (Ms.)
Tel: +81-(0)3-5369-6063
E-mail: arts2@jpf.go.jp
(When sending an e-mail, please enter a half-width character "@" instead of a full-width character "@".)