Musical
Fist of the North Star (Hokuto no Ken)
Available for Free Online Viewing Exclusively in China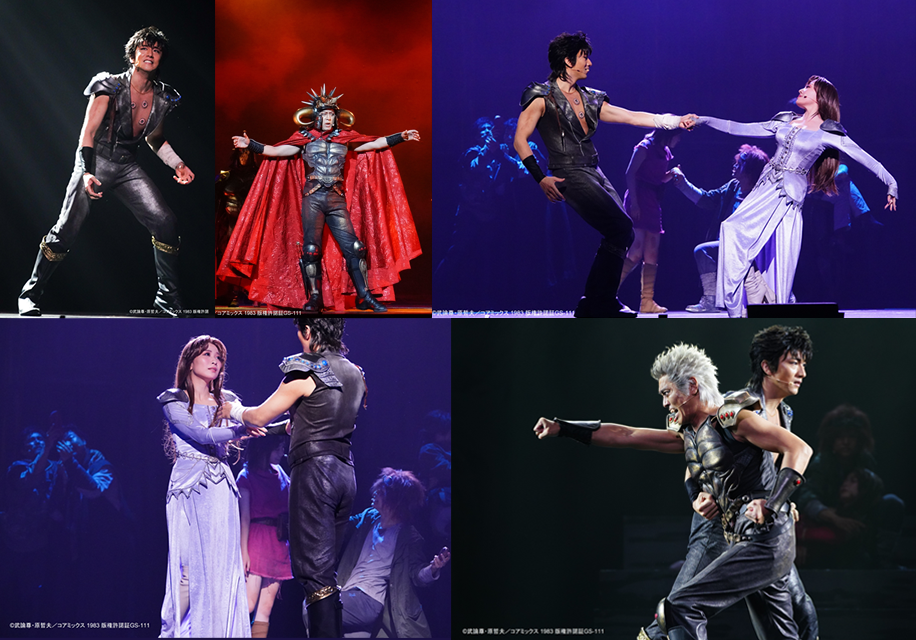 The Japan Foundation (JF) will offer free online distribution of the musical Fist of the North Star (Hokuto no Ken) exclusively to China's domestic audience.
The musical is adapted from the manga Hokuto no Ken, which was serialized in Weekly Shonen Jump from 1983 to 1988. Even today, more than three decades after the conclusion of the series, the manga continues to enjoy enormous popularity not only in Japan but worldwide.
As part of a project commemorating the 50th Anniversary of the Normalization of Japan- China Relations, the original plan was to send the musical theater troupe to China to give live performances. The ongoing spread of COVID-19, however, forced the plan to be cancelled and the performances to be streamed online.
In the performances, the lead role of Kenshiro is played by ONUKI Yusuke, acclaimed in Japan's entertainment circles for his unmatched physical prowess. The two singers HIRAHARA Ayaka and May'n, both highly popular in China, are double cast in the role of Yuria, Kenshiro's fiancee. The entire cast is made up of actors and actresses who are leading lights in Japan's musical world. Helping with the choreography is YAN An, a prominent figure in Chinese dance, and five Chinese dancers take part in the dancing scenes. Including Yuria, four of the main characters are double cast. Streaming will be delivered once for each performance with different casting, which was filmed at a theater in Tokyo in September 2022.
It is hoped that through this project, Japanese performing arts and contemporary culture will gain wider interest among the people of China.
Project Overview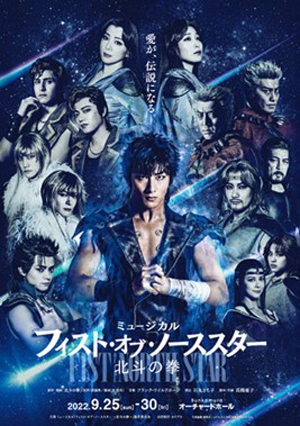 overview
Title
Musical

Fist of the North Star (Hokuto no Ken)

Streaming medium
Billibilli https://b23.tv/UvA5HxK
*Available in China only
Streaming times and dates
(1) From 7:30 p.m., January 26, 2023
(2) From 7:30 p.m., January 27, 2023 (China Standard Time (CST))
Organizer
The Japan Foundation
Planning and production
HoriPro Inc.
Credits
Original work: Manga Hokuto no Ken (written by: Buronson; illustrated by: HARA Tetsuo)
Composer: Frank WILDHORN
Director: ISHIMARU Sachiko
Book and lyrics: TAKAHASHI Ako
Main Cast:
Kenshiro: ONUKI Yusuke
Yuria: HIRAHARA Ayaka / May'n (double casting)
Toki: KONISHI Ryosei
Juza: IREI Kanata / KAMIKAWA Kazuya (double casting)
Shin: UEHARA Takuya / UEDA Kandai (double casting)
Mamiya: SHIMIZU Miisha
Tou / Toyo: AKANE LIV
Ryuken, others: MIYAKAWA Hiroshi
Rei: MIURA Ryosuke
Raoh: FUKUI Shoichi / NAGAI Masaru (double casting)
*Note that the cast differs depending on the streaming date.
(c) Buronson / Tetsuo Hara / Coamix 1983, Approved No. GS-111
The manga

Hokuto no Ken

:
The manga series, written by Buronson and illustrated by HARA Tetsuo, was originally published in the manga magazine Weekly Shonen Jump from 1983 to 1988. The story is set in a post-apocalyptic wasteland after a nuclear Armageddon, which is ruled by violence. Kenshiro, as the successor to the martial art of assassination Hokuto Shinken, grows up into a savior of the world while bearing love and sorrow. The manga is still enjoyed by numerous readers more than 35 years after the start of the series. The manga has sold over 100 million copies. It became a social phenomenon as it was adapted into TV anime series and movies, and side stories featuring minor characters were published. The manga will mark its 40th anniversary on September 13, 2023. Hokuto no Ken official website: http://www.hokuto-no-ken.jp/
[Contact Us]
The Japan Foundation
Contact: Torishima (Ms.), Matsuoka (Mr.)
Performing Art Section, Arts and Culture Department
Tel: +81-(0)3-5369-6063
E-mail: pa@jpf.go.jp
(When sending an e-mail, please enter a half-width character instead of a full-width character "@.")