Commemorative Performance Celebrating the 70th Anniversary of the Establishment of Diplomatic Relations between Japan and the State of Israel"Boom Pam & The Spirit of Tohoku"

Deer Dance (Shishi Odori) performers and musicians from Tohoku to perform with popular Israeli band Boom Pam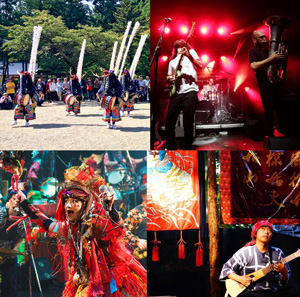 In September 2022, the Japan Foundation (JF) will send performers of the Gyozan-ryu Mitobe Deer Dance (Shishi Odori), a local performing art of Minamisanriku-cho, Miyagi Prefecture, and musicians from the Tohoku region to Israel to give musical performances as part of the project to support Japan Festival 2022, celebrating the 70th anniversary of the establishment of diplomatic relations between Japan and Israel.
Immediately after the Great East Japan Earthquake in March 2011, Israel became the first foreign government to dispatch a medical aid team to conduct medical activities at a temporary clinic in Minamisanriku-cho, and Israeli private organizations also conducted aid activities in the Tohoku region, symbolizing the friendly relations between Japan and Israel.
In March 2021, at the initiative of the Israeli Embassy in Japan and the generous support of the Israeli Foreign Affairs Headquarters in Jerusalem, an online music exchange between Japan and Israel was held as part of the 311-321 Project, a memorial project for the 10th anniversary of the Great Eastern Earthquake. Originally, Israeli musicians were scheduled to come to Japan to perform together in person, but due to the COVID-19 pandemic, they were unable to come to Japan. Instead, the remotely recorded CD Kikoetekuru Naminoyouni: Like the Waves You Hear was released to the world.
For the first time ever, they will be able to perform together in person, and the long-awaited musical performance with a live audience will be held in Israel. The team Boom Pam and the Spirit of Tohoku will perform at the Israel Festival, an international arts festival held annually in Jerusalem, and at Japan Festival 2022, which will be held in Tel Aviv with this concert as its centerpiece.
| | |
| --- | --- |
| Date and time | Wednesday, September 21, 2022 8PM to 9PM (Israel Time) |
| City | Jerusalem |
| Venue | Jerusalem Theater |
| Ticket | No reservation required, free of charge |
| Website | https://www.israel-festival.org/ |
| | |
| --- | --- |
| Date and time | Wednesday, September 21, 2022 4PM to 5PM (Israel Time) |
| City | Tel Aviv |
| Venue | Teder |
| Ticket | No reservation required, free of charge |
| Website | https://www.teder.fm/ |
Presented by:

The Japan Foundation

Co-presented by:

Embassy of Japan in Israel

Cooperation:

Embassy of Israel in Japan

Production:

Japan Folk Performing Arts Association

Production Cooperation:

Association Sukiyaki Office
Profile
Gyozan-ryu Mitobe Deer Dance (Shishi Odori) Preservation Group (Minamisanriku-cho, Motoyoshi-gun, Miyagi Prefecture)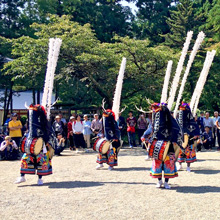 In the Tohoku region, various types of deer dances (shishi odori) have been handed down through the ages. Shishi refers to mountain animals that were sustenance for the people of Tohoku. Among the dances, the Shishi Odori, in which people wear a head covering with real deer antlers called kashira, carry 2.7-meter-long bamboo poles called sasara on their backs, and sing and dance while beating the drum attached to their waist, has been handed down in the region from northern Miyagi Prefecture to southern Iwate Prefecture. Eight deer—one leader, one doe, and six young deer—make offerings at the Obon summer festival and pray for a good harvest at the Fall Festival.
The Mitobe area of Tokura in Minamisanriku-cho was mentioned in ancient documents as the birthplace of the Shishi Odori, but the tradition had disappeared over time.
In 1982, a stone monument related to the Shishi Odori, built in 1724, was discovered in the soil on a hill. This led to the dance's revival, which was achieved with guidance from the performers of the Shishi Odori of Maikawa, Ichinoseki City, Iwate Prefecture; Maikawa's dance had its origin in the Mitobe area.
In 2011, when the region once again faced disaster due to the tsunami caused by the Great East Japan Earthquake, Mitobe Shishi Odori played a role in the recovery efforts. The dancers inherited the intention of the words inscribed on the stone monument, "We are dancing as a memorial to the souls of all living creatures," and wearing kashira and drums found in the rubble, they began dancing again to pray for the repose of the victims' souls and to encourage those who had been separated from loved ones. Designated as an intangible folk cultural property by Minamisanriku-cho.
Gyozan-ryu Mitobe Deer Dance (Shishi Odori) Preservation Group website (at Minamisanriku-cho VIRTUAL MUSEUM)
SHIRASAKI Emi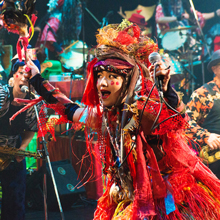 Singer. Born in Sakata City, Yamagata Prefecture. She started her career in 1990 with the famous band "Shang Shang Typhoon" and the support of Epic Sony. By participating in many projects such as composing music for the Studio Ghibli's "Pom Poko", or the album recording and live performance of Cyndi Lauper, she gained a wide popularity in Japan and abroad. After the 2011 Great East Japan Earthquake, she decided to come back to Tohoku region and to start the band "Emi Shirasaki & 6 Tohoku Prefectures Roll Show !!" – gathering musicians from both traditional and rock/jazz scene of the Tohoku region and touring regularly in the whole country. In 2016, she published a photo essay "Oni Utahi" (published by Aki Shobo). She is currently a regular columnist for the Yamagata Shimbun and also often appears on TV, movies and theatrical performances.
She is the Sakata Tourism Ambassador, representative Director of Moshe Yamagata and has received the Furusato Honor Award from Sakata City in 2017.
In April 2022, she published Attakohousa: Tohoku Utahime ♡ Essei-shu (Toward a warm place: Essays by a Tohoku diva), a collection of essays originally written for Yamagata Shimbun.
YOTSUKURA Yukihiko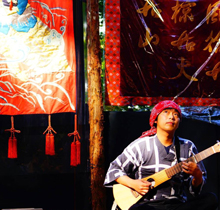 Born in Ishinomaki City, Miyagi Prefecture in 1983.
Yotsukura's work centers on improvised music, but he also frequently engages in physical expression, live painting, and collaborations with video artists.
He performed music for the performances Yukiwatari (Snow crossing) and Fukushima–Voice from the Hurt (2012) by dancer MORI Shigeya at the Echigo-Tsumari Art Triennial in Niigata Prefecture, and in the performance Geino no Hajimari (The beginning of performing arts, 2015) by Ryoondo-Tea at the Performing Arts Program "Bon festival on the Earth."
He also performed at Narukyo (2008-2013) held at Naruko Hot Spring in Miyagi Prefecture, Shibukyo (2009-2014) held at Shibu Hot Spring in Nagano Prefecture, and Hijikyo (2013) held at Hijiori Hot Spring in Yamagata Prefecture, which were events focused on hot spring culture, art, and electronic music.
In September 2020, he participated in Richi Owaki's work Connected Dreams at Yamagata Biennale 2020.
He provided music for Mitsui Garden Hotel Kyoto Kawaramachi Jokyoji and the play Adventure King, as well as for the special exhibitions Ogatsu no Nioi (The smell of Ogatsu) and Ogatsu no Ishi (The stones of Ogatsu), etc.
He joined the Ogatsu-cho Date no Kurofune Daiko (Ogatsu's group for Japanese drum preservation) and Ogatsu-cho Dobayashi Shishimai Misosaku Aikoren (Ogatsu's shishimai lion dance society) after supporting local performing arts affected by the Great East Japan Earthquake in 2011. Through training in Japanese drums, shinobue bamboo flute, and shishimai (Japanese lion dance), as well as through musical performances, he continues his daily research on folklore and the expression fostered by the land and local people.
Boom Pam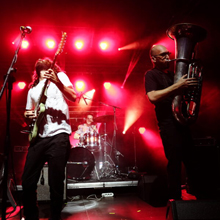 Tel Aviv-based band Boom Pam formed in 2003. They play a mixture of Mediterranean rock and surf music in the format of a unique quartet including: Electric Guitar, Tuba, Keyboard and Drums.
Initial highlights for the band included playing at the reunion show of legendary band Minimal Compact & Emir Kusturitza's "Non Smoking Orchestra" and showcasing at WOMEX 2006 (the World Music Expo) which launched their worldwide touring career.
Boom Pam's debut album in 2006 and was distributed throughout the World. The album went straight into the top ten list of the European World Music Charts.
Boom Pam made their first appearance in Japan in 2012, followed by a tour in Japan, which included an epic performance at Fuji-Rock Festival and performances in Tokyo, Osaka and Yokohama.
In March 2021, on the 10th anniversary of the Great East Japan Earthquake, they participated in the Israel-Japan Partnership Tohoku Initiative 2021, a project of the Embassy of Israel in Japan. As part of this initiative, Kikoetekuru Naminoyouni: Like the Waves You Hear was released on March 11, 2022, remotely produced with a local performing arts group in Minamisanriku-cho, Miyagi Prefecture, and artists from the Tohoku region.
[Contact Us]
The Japan Foundation
Persons in Charge: Shinohara (Ms.), Takahata (Ms.),
Tel: +81-(0)3-5369-6063
E-mail: pa@jpf.go.jp
(When sending an e-mail, please enter a half-width character instead of a full-width character "@.")