Worth Sharing - A Selection of Japanese Books Recommended for Translation Vol.5 Japan's tomorrow
<News>
We are pleased to announce the launch of a new website entitled Worth Sharing – A Selection of Japanese Books Recommended for Translation (https://www.worthsharing.jpf.go.jp/en/).
We will continue to update the website with information related to the recommended titles and projects for interaction between authors, translators, and editors. We hope you enjoy the new site!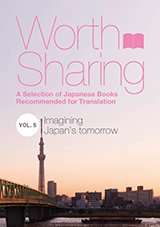 For more than 40 years the Japan Foundation has supported the publication of Japan-related books around the world through its Support Program for Translation and Publication on Japan. Through this support program, books in over 50 languages have been published in a wide array of genres, including classic and contemporary literature, history, sociology, politics, economics, and cultural theory.
In 2012 we launched an initiative called Worth Sharing, aimed at giving people overseas a better understanding of contemporary Japan by recommending selected outstanding books for translation. Since then, we have worked toward the ultimate goal of introducing 100 brilliant books—20 in each issue—that provide readers with authentic views of Japanese society and its people.
Beginning with Vol. 1, "Shedding light on Japan's youth," followed by Vol. 2,"Exploring Japan's diverse regions," Vol. 3, "Illuminating love in Japan," and Vol.4, "New ways of living in Japan," to date we have focused on works presenting contemporary Japan. The final issue, however, will travel along the time axis with the theme "Imagining Japan's tomorrow."
In the twentieth and twenty-first centuries, humanity has experienced rapid technological revolution, social transformation, and tragic conflicts unprecedented in history. These have brought huge change to the everyday lives, lifestyles, and values of ordinary people.
We would like to bring the series to a close with works that portray the lives of people through this tumultuous era and those that envision the new Japan of the future.
The titles recommended in this publication are works that the Japan Foundation would also prioritize for the support program, provided the translations are of adequate quality and appropriate publication plans are submitted.
We aim for this new list to bring together literary works and their authors with translators and publishing companies so that the books can reach overseas readers, thereby planting the seeds for future interactions with Japan.
Japan Foundation
Chō Kyō (Zhang Jin) (professor, Meiji University)
Nozaki Kan (professor, University of Tokyo)
Numano Mitsuyoshi (professor, University of Tokyo)
Ozaki Mariko (editorial board member, Yomiuri Shimbun)
The selection committee members' titles and affiliations refer to the membership period.
Dialogues with History and Signposts Toward Tomorrow ···Numano Mitsuyoshi, Professor, University of Tokyo (PDF:575KB)
<Recommended Selections>
Akasaka Mari
Hashimoto Osamu
Higashiyama Akira
Itoyama Akiko
Kaga Otohiko
Kirino Natsuo
Murata Sayaka
Nagano Mayumi
Nakawaki Hatsue
Nashiki Kaho
Okuizumi Hikaru
Onda Riku
Shiraishi Kazufumi
Tawada Yōko
Tsushima Yūko
Sawachi Hisae
Tsujii Takashi
Fukushima Ryōta
Takashina Shūji
Watanabe Kyōji
Adobe Reader software is available for free download from the Adobe Systems web site. To download and install Adobe Reader,
click on this link

and follow the instructions given for your operating system.