The FY2013 Invitation Program for Young Muslim Intellectuals in Southeast Asia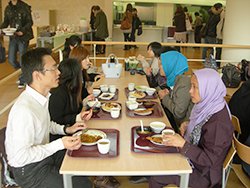 The participants,
with the program advisor Ken Miichi,
experienced a student cafeteria
at Iwate Prefectural University.
The Japan Foundation provides a training program in Japan for several young researchers who have drawn attention as young Muslim intellectuals of the next generation in Southeast Asia with the aim of helping them to understand more about Japan, to help build stronger relations between Japan and the countries of this region. Themed on "The religious mentality as a foundation for building relationships," the second session (FY2013-15) will examine the concept of "harmony," one of the defining characteristics of Japanese society. Participants will work to develop a deeper understanding of the spirituality that forms the basis for such harmony with "religious mentality" as the keyword, as they visit areas affected by the Great East Japan Earthquake and other places where a variety of social activities are taking place.
Period of the program:
Thursday, November 21 - Wednesday, December 4, 2013
program
Qualified countries:
Indonesia, Malaysia
Eligible participants:
- To be eligible for the program, participants must as a general rule be university lecturers, assistants, graduate students (in master's programs/doctoral programs) or similar who are expected to achieve success as intellectuals in the future, and who are under the age.
- Participants must be able to make use of the knowledge learned and networks developed during the program in their own activities and career etc.
Locations:
Tokyo, Kyoto, Sendai City (Miyagi Prefecture), Morioka City, Miyako City, Fudai Village in Shimohei County (Iwate Prefecture)
Format:
The program consists of lectures, opinion exchange meetings, regional visits, workshops, and others.
Advisor:
Associate Professor Ken Miichi (Iwate Prefectural University)
Visit to:
Iwate Prefectural University, a research center at Sophia University, public interest organizations, non-profit organizations, The Miyako Tourism Association "Manabu Bosai," Unotori Shrine, Chion-in, and others
List of the participants
List of the participants

| Name | Affiliation |
| --- | --- |
| Eka SRIMULYANI | University lecturer/researcher, The State Islamic University of Ar-Raniry Banda Aceh |
| Kamaruzzaman Bustamam AHMAD | Lecturer, Faculty of Shari'ah, IAIN Ar-Raniry, Banda Aceh |
| Muhammad AS'AD | Director of A. Wahid Hasyim Library of Pondok Pesantren Tebuireng Jombang and Lecturer at University of Hasyim Asy'ari Jombang |
| Kusuma Dewi SUBKHANI | Non-tenured lecturer, Sunan Kalijaga, State Islamic University, Yogyakarta |
| Zulkifli Bin Hasan | Lecturer, Islamic Science University of Malaysia |
| Abdul Razak Bin Abd Muthalib | Manager of Student Activities Department, International Islamic College (IIC) |
[Contact Us]
The Japan Foundation
Asia and Oceania Section, Japanese Studies and Intellectual Exchange Dept.
Persons in charge: Futako (Mr.), Tomishima (Ms.)
TEL: +81-(0)3-5369-6070