Beijing Center for Japanese Studies: Overview
Beijing Center for Japanese Studies was established in 1985, under the agreement between the Japan Foundation and the Ministry of Education of the Government of the People's Republic of China. It succeeded the Training Center for Japanese Language Teachers, commonly called "Ohira School" (1980-1985), based on the agreement between then Prime Minister Masayoshi Ohira and then Premier Hua Guofeng in 1979, with the aim of fostering human resources to promote Japanese language and Japanese studies in China as well as cultural exchange. Currently, the center is operated at two sites: Beijing Foreign Studies University and Peking University.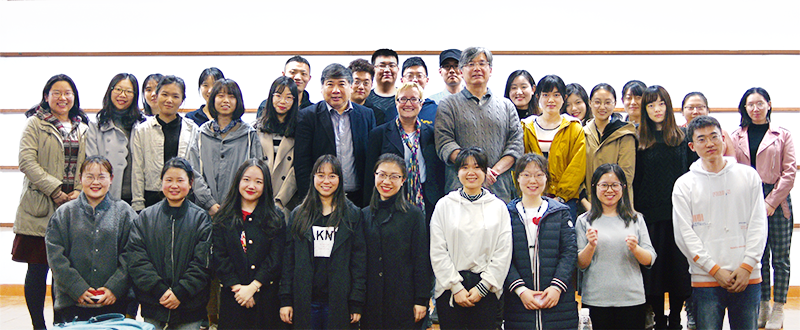 At an International Workshop, with Prof. Verena Blechinger-Talcott (Free University of Berlin), Prof. Guo Lianyou and Prof. Shigeto Sonoda
The Japan Foundation has been in charge of co-organizer with the projects such as dispatching experts in Japanese studies and inviting people including graduate students to Japan. We have also supported to facilitate research and educational environment of the center by funding the operational expense, to produce various types of publications, and to donate educational materials, research materials, and equipment.

At an International Workshop by Prof. Verena Blechinger-Talcott (left) and Prof. Shigeto Sonoda (right)
1. Beijing Foreign Studies University
(the Beijing Center for Japanese Studies)
The center offers six master's degree courses: Japanese linguistics, Japanese-language education, Japanese literature, Japanese culture, Japanese society, and Japanese economy.
The Japan Foundation provides opportunities for master's and doctoral students to come to Japan for collecting on-the-spot materials and searching publications for their dissertations to be written under the Japanese dissertation supervisor.

At the Reporting Session of 33rd Master degree course in Tokyo
The number of students who have studied at the center is as follows (as of August 2020):
Master's degree course: 915 students (as of the 35th graduates)
(804 students completed Master's degree course as of the 32nd graduates are included)
PhD course, government-sponsored: 79 students as of the 22nd graduates (Ended in 2011)
PhD course at the Beijing Center for Japanese Studies: 123 students as of the 20th graduates
(84 students completed PhD course are included)
The Japan Foundation has been dispatching 763 experts in total to the center for educational support of this project (as of August 2020).
2. Peking University (Center of Japanese Studies)
This course was established in 1990 for young executives in the Chinese public and private sectors, and Japanese studies experts in China. Its aim is to foster Chinese experts on Japan with appropriate and professional knowledge regarding Japan today by offering an opportunity to research the current status and systems of the Japanese economy, administration, industries and society, and also to research the policy-making process mainly in government and industries. The course has been providing lectures both on the theories and practice. Some lectures had also been attended by the students of master's and doctoral courses at Social Science Department of Peking University since 2000. However, in 2006, these lectures were redesigned and offered exclusively to doctoral students at the department to develop the curriculum aiming for more advanced education and research results.

Opening Ceremony of 15th Doctoral Course
The lectures at this center are presented by approximately 10 Japanese lecturers (intellectuals such as university professors and administrative officials) dispatched by the Japan Foundation and Chinese faculty members mainly from Peking University. Graduates of the course are active in a wide variety of areas in China, including the public and private sectors and the academic circles. For students at the Peking University Graduate School, six credits are given by completing this course. So far, 591 students, in total, of business persons and graduate students of Peking University have taken this course. Also, the Japan Foundation has dispatched 311 experts (professors) in total for lecturing at the course (as of August 2020).



Orientation




Greeting from Prof. Atsushi Sunami



Greeting from Prof. Hanmei Li




Closing Ceremony
Online Program of 15th Doctoral Course
[Contact Us]
The Japan Foundation
Asia and Oceania Section
Japanese Studies and Intellectual Exchange Dept.
Tel: +81-(0)3-5369-6070 Fax: +81-(0)3-5369-6041
E-mail:asiaoceania@jpf.go.jp
(When sending an e-mail, please enter a half-width character "@" instead of a full-width character "@".)