E-learning material NIHONGO Starter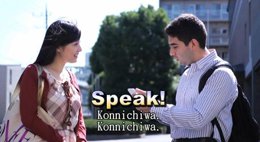 A scene from a skit in the material:
An international graduate student,
who studies at a science and
technology university in Japan,
takes the main role in the drama-style skits.
The Japan Foundation and The Open University of Japan jointly produced the e-learning material NIHONGO Starter, and it is offered as one of the Japan Massive Open Online Courses (JMOOCs) operated by the Japan Open Online Education Promotion Council from April 14, 2014.
JMOOC, the first ever Japanese version of a Massive Open Online Course (MOOC), is an educational service that offers open access to online courses at any time, from anywhere around the world. NIHONGO Starter is introductory material for Japanese-language learning written in English. Based on the syllabus of the Japan Foundation's coursebook Marugoto: Japanese language and culture, Starter A1, the material presents various basic learning tasks, such as 'Exchanging greetings' and 'Talking briefly about your family,' and provides opportunities to learn the Japanese language from the very beginning. This can be done from all over the world, free of charge.
Overview
Overview
Course name

The lecturer for this course:
"Grandpa" Robot

Produced by
The Open University of Japan; Research and Development Section, The Japan Foundation
Principal Lecturer: Prof. Tsuneo Yamada (The Open University of Japan)
How to apply

Please see this file (PDF:569KB)

1.

CLASS 8 is open from June 20 to July 31. However, it is always possible to download materials and accumulate results of study from this course, even outside of the opening period of classes.

2.

A Facebook account / Google account / OUJ MOOC account is necessary for attending this course. For more detailed information please see this link:
Nihongo Starter Facebook
If you become a member of the Facebook Group for each class, you can contact other participants, and you can also ask questions to the staff on this course.

Class Schedule
CLASS 1: Monday, April 14 — Sunday, May 18, 2014
CLASS 2: Monday, June 2 — Monday, July 7, 2014
CLASS 3: Monday, August 4 — Sunday, September 7, 2014
CLASS 4: Monday, November 3 — Monday, December 22, 2014
CLASS 5: Monday, January 12 — Sunday, March 22, 2015
CLASS 6: Thursday, June 11 — Wednesday, July 15, 2015
CLASS 7: Monday, November 9 — Sunday, December 20, 2015
CLASS 8: Monday, June 20 — Sunday, July 31, 2016
*The contents of all classes are the same.
Marugoto: Japanese language and culture
Marugoto: Japanese language and culture is a coursebook that was developed based on the Japan Foundation's JF Standard for Japanese-Language. Targeting Japanese-language adult learners living overseas, the book was designed with an emphasis on using Japanese to communicate, and on understanding and respecting other cultures. In addition, the contents and approach were devised so that learners can enjoy studying language and culture for its own sake, even if they are not in Japan. Each topic contains situations where people from a variety of cultural backgrounds interact in Japanese. Learners can also experience various aspects of Japanese culture through photographs and illustrations while listening to a number of natural conversations taking place in each situation.
Marugoto: Japanese language and culture
[Contact Us]
Research and Development Section, Japanese-Language Institute, Urawa
Person in charge: Sato (Ms.)
Tel: +81-(0)48-834-1183
E-mail: marugoto@jpf.go.jp
(For e-mails please change the full-width '@ mark' to a half-size character.)