The Japan Foundation, Assistance of Jakarta's Japanese-Language Education (2021)
The Japan Foundation, Jakarta
In charge of EPA: OTA Miki, OGAWA Yasuko, HIRATA Yuna, TAKEDA Kota
In charge of middle schools: IMAI Chie
In charge of NP project: KOGA Hiroko
In charge of "Specified Skilled Workers": TEJIMA Rie
In charge of higher education and lectures: MORITA Mamoru
The Japan Foundation, Jakarta (hereinafter the "JFJA") undertakes assistance for Japanese-language teachers, "JF Japanese e-learning Minato" (hereinafter "Minato") Japanese-language courses, preparatory pre-arrival Japanese-language training for Indonesian nurses and certified care worker candidates based on the bilateral Economic Partnership Agreement (hereinafter "EPA"), support for the Japanese-language education that "Specified Skilled Worker" status of residence holders will need to live and work in Japan, and the NIHONGO Partners (hereinafter "NPs") project. Due to the COVID-19 pandemic, at the moment, training programs and classes are not able to be held in person, and so we are pursuing our duties by utilizing online platforms.
In Person and Online also, "Nihongo☆Rakuraku"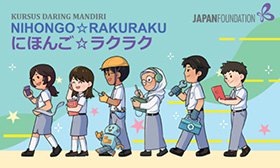 A new online teaching material has been created
for Vocational high-school students
"Nihongo☆Rakuraku," a textbook for vocational high schools (Sekolah Menengah Kejuruan), has been completed. The amount of material in the textbook was held down to make it easy to teach even within the curriculum for vocational high schools, and the content and vocabulary were also aligned with the content of classes at the schools. The characters have been newly created also, and the goal was to establish a textbook that would make it to possible to learn enjoyably and "raku ni" (comfortably). Due to the impact of COVID-19, there was no option but to change the schedule and the method of recording voices, but by adopting a method of recording voices individually and then editing them, the textbook was finished completely online without meeting face-to-face once, even for the conversation scenes. The textbook can be downloaded for free from the PSMK (Ministry of Education and Culture, Vocational High School Education Bureau)'s website.
Additionally, in response to demand from individuals wanting to learn online at their own pace, we launched the "Nihongo☆Rakuraku" A1 self-study course within "Minato." This too is completely free, and learners can take part in the course easily, and from any location. Lively exchanges are taking place on the course's group page, where users introduce themselves in Japanese using the expressions they have learned, and ask questions about things they have doubts about.
Former NPs in Japan are Playing Active Roles! Online Japanese-Language Chat Session
Accompanying the global spread of COVID-19, the dispatch of the NPs for fiscal 2020 ended up being halted, but in order to nurture a connection with Japan if only in small way, we planned the "Online Japanese-Language Chat Session" for Indonesia's high school Japanese-language teachers to create a forum where they could interact in the Japanese language with former NPs who had been dispatched to Indonesia in the past.
The chat session was held four times with different participants, but at each session, we had five or six NPs from the fiscal 2019 deployment cooperate voluntarily as "Oshaberi (chat) Partners (hereinafter "OP")." In order to ensure that each participant would have plenty of opportunity to speak Japanese, we formed groups comprising one OP and two to four participating teachers. The themes of the sessions were either "My town's festivals and events," "Things I am crazy about right now," or "My town's strengths," and prior to taking part, the participants first prepared what they would talk about and the photos and videos they would show.
On the day, not only did some participants face transmission and Zoom operating problems, but it was also apparent that other participants found it difficult to communicate, including being unable to talk like they thought they would, or unable to convey what they wanted to say. Nevertheless, when we asked participants for their thoughts at the end, some said they wanted us to host the chat session every week or every month. Seeing everyone's animated expressions made us really feel that planning the chat session was the right thing to do. We hope to use this as a starting point for utilizing online platforms in the future as well.
"Minna to Minato," a "Minato" Learners' Exchange Event, was Held Online
"Minna to Minato (Minato with everyone)," an event for individuals who use "Minato" to learn the Japanese language, is held in Indonesia. Initially, the event was held at the JFJA by dividing participants into classes according to their Japanese-language ability, from beginners who had just begun learning Japanese through to individuals able to express their personal opinions in detail. However, with the COVID-19 pandemic, it became impossible to gather in one location, so from April 2020 we decided to hold the event online. Although there were concerns about Internet connectivity problems and other issues, switching to the online format made it possible to attract a large number of applicants from around Indonesia. Additionally, when we worked with the Embassy of Japan in Indonesia to hold a "Minna to Minato" event for individuals who were scheduled to study abroad in Japan as government-sponsored foreign students but were waiting in Indonesia and unable to enter Japan because of the pandemic, that event was very well-received too.
Online Training is Underway in 14th EPA Session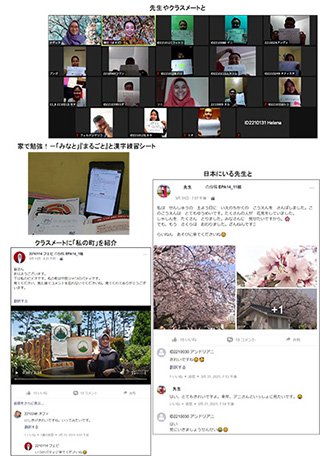 Images from the online training
On February 8, 2021, we began holding the 14th year of pre-arrival Japanese-language training based on EPAs online. 275 candidates participated in the training. The training is being held by connecting each of the candidates and teachers as well as the operational staff, which consists of the adjustment members and Japanese-Language Specialists, online from locations around Japan and Indonesia.
In preparing to hold the training, to begin with, we designed a course centering on "Minato" and "Marugoto: Japanese Language and Culture," (hereinafter "Marugoto"), and then created supplementary teaching materials and tests and undertook teacher training. On top of that, however, a major challenge was to prepare the candidates' learning environment and support candidates in forming study habits, as well as create an environment in which the teachers could carry out class activities and team teaching online. This was a new challenge to the Japanese-Language Specialists, and even now that the training is underway, the daily PDRs (performance and development reviews) are ongoing.
In the course of that, one curious thing has been the reaction from candidates. While it is too soon to discuss the learning outcomes, in a survey of the candidates that we carried out after the first half of the training ended, around 90% answered that it is "easy to learn" this session. The comment suggests that even online, participants are connecting with their teachers and classmates, making progress with studying on their own while using "Minato" and "Marugoto," and experiencing firsthand that they are able to speak and write the things they want to convey. Around 70% of respondents were affirmative about participating in the training online, but some also said that "if possible, I want to study directly with teachers and classmates." We do not know what awaits us up ahead, but the candidates, teachers and operational staff want to continue the voyage in the "unknown world" while continuing to cooperate and offer mutual encouragement. Aim for the new continent that lies beyond!