Implementing Japanese-Language Education Programs Online
The Japan Foundation, Kuala Lumpur
SATO Osamu and KONDO Maiko
Due to the impacts of COVID-19, Japanese-language classes and seminars for Japanese-language teachers in Malaysia as well were changed to be online. In this report, we will introduce two examples of Japanese-language education programs that were conducted online by the Japan Foundation, Kuala Lumpur (hereinafter "JFKL") in FY2020.
Online Japanese Salon Providing Learners with Opportunities to Speak the Japanese Language
According to the Survey on Japanese-Language Education Abroad 2018 by the Japan Foundation, Malaysia has approximately 39,000 Japanese-language learners, ranking 10th worldwide. There are also many Japanese-language learners who are not included in this number, such as people who work with the Japanese language for their job and people who are self-taught and don't belong to an educational institution. However, due to the impacts of COVID-19, it became more and more difficult to gather, and people's chances to speak in the Japanese language were declining, so JFKL began the "Online Japanese Salon from August 2020."
Anyone who wants to speak the Japanese language can participate in the "Online Japanese Salon" regardless of the level of their Japanese. We held the salon once a month for seven times in FY2020, and a total of more than 250 people from Malaysia participated. Almost 70 Japanese people cooperated with the project and participated. Most of them had some connection to Malaysia, and, in particular, many of the people who were participating had been dispatched to Malaysia as NIHONGO Partners.
At the salon, the participants could enjoy free conversation at the small-group level according to themes, and it was devised this way so that people of all levels, from beginning learners to advanced speakers, can use the Japanese language without feeling tense or anxious. The participants were quite satisfied, and many of the participants were surprised and delighted that there are so many people from Malaysia who can speak the Japanese language, as well as Japanese people speaking their native language.
Recently there has been an increase in the number of participants who have joined the Salon multiple times. Additionally, the participants haven't just been students of lower secondary schools, upper secondary schools and universities, and working adults from the suburbs around the capital, but from all over Malaysia. Although it is an online place where people cannot meet in person, it is exactly because the event is online that it can reach Japanese-language speakers all over Malaysia.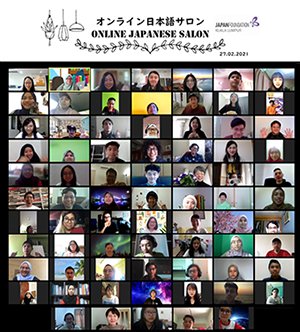 Participants from the Sixth Online Japanese Salon
Poster Presentations via Video at Research Presentations
The 17th International Conference on Japanese Language Education in Malaysia (hereinafter the "Conference") is a large-scale event where Japanese-language teachers both inside and outside Malaysia present their research and share their educational practices, and the Conference is jointly held every year in October by JFKL, by the Special Preparatory Programme to Japan (RPKJ), at the Centre for Foundation Studies in Science, University of Malaya, and by the Malaysia Japanese Language Instructors Society. FY2020 was the first time that the event had been held online, because of COVID-19, but we took it positively as a new challenge and had many discussions from the preparatory stage. As a result, more than 340 people applied to participate, more than 165 people from 17 countries participated on the day of the keynote presentation and oral presentations, and it was a great success.
The keynote speech and the six oral presentations were broadcast live via Zoom on October 3, 2020, but the poster presentations were "asynchronous," in which each participant accessed YouTube during the designated two-week period before and after the keynote speech and oral presentations. Here, we will focus on the "asynchronous" poster presentations.
Unlike with "synchronous" presentations where everyone is working at the same time, an "asynchronous" presentation means that each individual is working at a different time. As a result, participants can watch the videos at any time they like and they can repeatedly view a video to rewatch a portion that they didn't fully understand. There are many synchronous scientific conferences that have multiple venues, and participants cannot hear all the presentations because the presentations are all happening at the same time, so an advantage of asynchronous presentations is that participants can attend all of the presentations. We feel that this kind of format can be used even after it becomes possible for everyone to physically gather again in the future, so it may have a positive impact on the future of research presentations.
At the preparatory stage, we were worried about "Whether creating videos will be a difficult hurdle" and "Whether presenters will join the Conference," but, when we opened the Conference to applications, we received even more applications than usual. Additionally, the 12 poster presentations were viewed 2,432 times, and there were many exchanges in the comments section, with opinions being actively exchanged. As for the content of the presentations, we were particularly impressed with presentation themes that matched the times, such as presentations about online learning and the development of web tools. However, seven of the 12 presentations were from outside of Malaysia, so in the future, we would like to strengthen our efforts towards individuals in Malaysia.
In this report, we focused on introducing the Online Japanese Salon for Japanese-language learners and our Conference for Japanese-language teachers, which are just some of the online Japanese-language education programs that we held in FY2020, and we will continue to do as much as we can in the future, even with restrictions.