Expanding Japanese-Language Education During the Covid-19 Pandemic
The Kazakhstan-Japan Center for Human Development
SEGAWA Ayako
As of May 2021, the global Covid-19 Pandemic has yet to be brought under control, and that includes here in Kazakhstan. While some universities and Shkola (a name for unified primary through higher secondary schools in Kazakhstan) have restarted face-to-face classes, many continue to take place online.
Given this situation, Narxoz University, the home of the Kazakhstan-Japan Center for Human Development (hereinafter "KJC"), remains closed, and classes have been taking place online for over a year. There was some confusion among both Japanese-language teachers and students when classes were moved online in a rush over a year ago, but as they grow more accustomed to the change, some advantages are becoming apparent.
Kazakhstan is a massive country covering the 9th largest territory in the world. The majority of the population, however, is concentrated in the two cities of Almaty, where I am dispatched, and the capital Nur-Sultan, and these are also the only two cities with Japanese-language educational institutions. The vast size of the country made it difficult for our support to reach all potential learners who might want to learn the Japanese language in regional areas, despite our desire to do so. However, once we began advertising our online classes via social media and the KJC website, we began to see a rise in inquiries and applications from learners in regional cities that had previously been unable to participate. (As of May 2021, 17 learners are registered from regional cities, or roughly one tenth of all learners.)
I believe that by continuing these online classes for regional cities in particular, even after the Covid-19 Pandemic comes under control, we can ultimately provide personnel skilled in the Japanese language in those cities to teach in online classes. Accordingly, we decided to hold online Japanese teacher training seminars as well.
The 8th "Marugoto" Teacher Training Seminar (Online)
This year, from Monday, March 1st through Friday, March 19, we hosted the 8th "Marugoto" Teacher Training Seminar for two hours each day except Saturdays, Sundays, and holidays, but as an online seminar for the first time. The focus of the Japanese-language course (the course which uses the Japanese language teaching material "Marugoto: Japanese Language and Culture," hereinafter "Marugoto") at the KJC is on building communication skills, so teachers must understand what makes that course unique and how to teach it accordingly. For this training seminar, we began calling for applicants with limited teaching experience in mid-February, and received 16 applications, including those with no experience at all and those with a great deal of experience. The seminar covered a wide range of topics in detail, with study and practice on the basics of teaching the Japanese language, such as the role of the teacher and preparing class plans, and such details as the "JF Standard for Japanese-Language Education" and "Can-do" method that form the basis of "Marugoto." While the seminar was a bit of an endurance task at two hours every day for three weeks, we received comments from many of the participants who stayed until the end that it was a fulfilling course. Some of the participants with teaching experience also offered their own ideas, while a great deal of advice was also offered to the participants without any experience. Meanwhile, some of the questions raised by the new teachers gave the veterans a chance to return to a beginner point of view.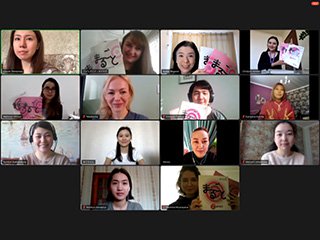 The "Marugoto" Online Teacher Training Seminar
The Japanese Speech Contest in Kazakhstan
The 22nd Japanese Speech Contest in Kazakhstan was originally scheduled for March 2020, but it was put off due to the Covid-19 Pandemic. Instead, it was rescheduled to be held online on September 5th, with one participant, Yasmina, who began attending classes at KJC in Almaty when she was in junior high school. Today, she is enrolled in the Japanese department of a university in the city while continuing to study at KJC. While she had considerable difficulty preparing for the screening process which, for the first time, involved having contestants create a video beforehand, Yasmina told us with excitement that the contest gave her the courage to follow her own path thanks to having started learning the Japanese language. And Yasmina won the contest with flying colors. Yasmina had actually entered this contest before, but had not done very well, an outcome which had sometimes brought on tears of frustration. With a look of pride on her face that I cannot forget, she explained that her win this time taught her the importance and meaning of sticking with it. Her speech incidentally went on to win third place in an event called Nihongo Challenge in Moscow. The event was held as an alternative to the Moscow Student Japanese Speech Contest and featured 20 competitors from Russia and CIS member countries.
Readers can watch Yasmina's speech via the following link.
https://youtu.be/PkYDT7eNKDU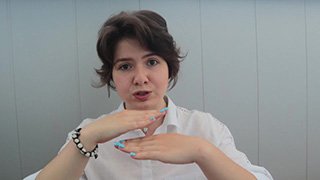 Yasmina's Speech Contest submission: "I follow my own path"