Japanese Language Education at the Secondary Level in Five Southeast Asian Countries - Developing Students' Competencies for the 21st Century -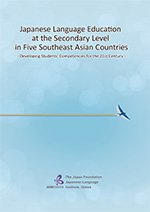 Southeast Asia has drawn attention from the world in both political and economic arenas, and the number of Japanese-language learners in this region has increased significantly in recent years. The Japan Foundation Japanese-Language Institute, Urawa has conducted studies on the official education policy documents of the five Southeast Asian countries (Indonesia, Thailand, Philippines, Vietnam, and Malaysia) since 2013, with a focus on education at the secondary level where there a large number of students learn Japanese. The documents, such as the curriculum of each country, placed emphases on new conceptions of qualities and abilities related to "Key Competencies" and "21st Century Skills," which have become popular trends in the world. On the other hand, it appears that each country has been exploring and attempting to incorporate those new ideas and ways of thinking in their respective unique contexts.
The Japanese translations of the key education policy documents of the countries, which are not included in the original publication, will also be available accordingly.
[Contact Us]
The Japan Foundation
Japanese-Language Institute, Urawa
Teachers Training Section
Email: urawa@jpf.go.jp
(When sending an e-mail, please enter a half-width character "@" instead of a full-width character "@.")