Free! New Teaching Materials
"Irodori: Japanese for Life in Japan"
日本語教育ニュース

このコーナーでは、国際交流基金の行う日本語教育事業の中から、海外の日本語教育関係者から関心の高いことがらについて最新情報を紹介します。
May, 2021
The Japan Foundation Japanese-Language Institute, Urawa
Irodori: Japanese for Life in Japan is a new Japanese language coursebook created by the Japan Foundation. Three parts have been released: Elementary 1 and Elementary 2 in March 2020, and Starter in November 2020.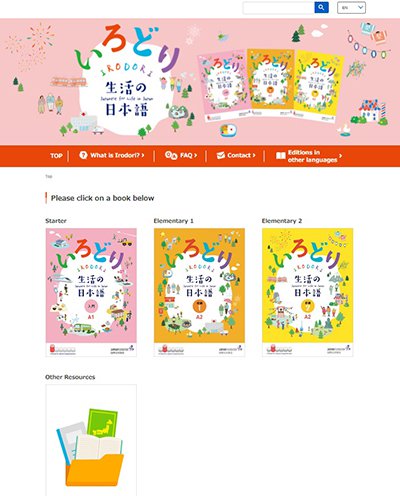 Irodori website(www.irodori.jpf.go.jp)
Everything can be used for free!
The main feature of Irodori is that it is completely free to use. The PDF files can be downloaded for free from anywhere in the world, so you can view them on your tablet or smartphone, or print them out. The three parts have a total of 1,433 pages! You can use all this material for free as you like.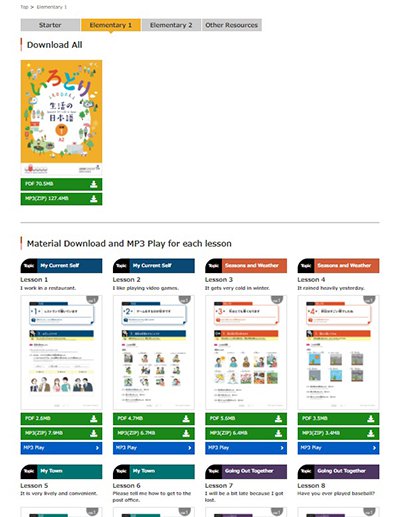 Irodori

is perfect for these kinds of learners!
Irodori is a textbook designed for people who live in Japan, just as its subtitle, "Japanese for Life in Japan," indicates. Starter corresponds to the A1 level of the JF Standard for Japanese-Language Education, while Elementary 1 and Elementary 2 correspond to the A2 level. The goal of Irodori is to help first-time Japanese learners gain basic Japanese to be able to live in Japan. The material begins at a basic level including giving self-introductions, ordering food at restaurants, and using public transportation, before moving onto subjects such as going to the hospital, traveling, participating in local events, preparing for earthquakes and typhoons, and talking about future dreams to people at work.
List of topics in each lesson

|   | Starter | Elementary 1 | Elementary 2 |
| --- | --- | --- | --- |
| Lesson 1-2 | Starting to Speak Japanese | My Current Self | People around Me |
| Lesson 3-4 | About Myself | Seasons and Weather | At a Restaurant |
| Lesson 5-6 | My Favorite Foods | My Town | Let's Go on a Trip |
| Lesson 7-8 | Homes and Workplaces | Going Out Together | Local Events |
| Lesson 9-10 | Daily Life | Studying Japanese | Annual Events and Manners |
| Lesson 11-12 | What I Like to Do | Delicious Dishes | Shopping Wisely |
| Lesson 13-14 | Walking around Town | Communication at Work | Various Services |
| Lesson 15-16 | At Stores | Healthy Life | Nature and Environment |
| Lesson 17-18 | Holidays | Personal Relationships | My Life |
Irodori is the perfect textbook for people who want to go to Japan in the future, or who are currently living in Japan but still cannot speak much Japanese. It is also useful for preparing for the Japan Foundation Test for Basic Japanese (JFT-Basic), which determines whether or not a person has basic Japanese language skills for daily life in Japan.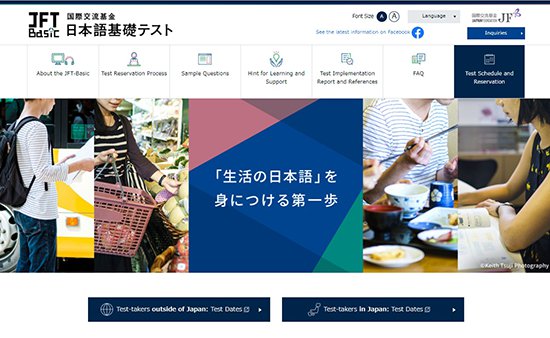 Increase the number of things you can do in Japanese daily life!
In Irodori, the learning goals are called "Can-dos," meaning what you can do using Japanese in everyday situations in Japan. For example, in Starter, these include "can give a simple self-introduction, for example by saying your name and country / hometown" and "can ask where the toilets or an ATM, etc., are." In the Elementary parts, examples include, "can call your workplace to say that you will be late or take the day off," "can read online reviews about restaurants and find information, such as taste and price," and "can ask store staff about a product or ask for a discount when you are buying electric appliances." The learning goals are based on communication that is necessary for actual life in Japan.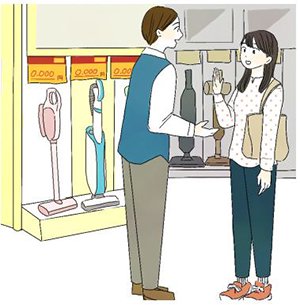 Activities for achieving the Can-dos!
The activities of each lesson include various tasks for achieving the Can-dos. First, you listen to many audio recordings. Irodori has 1,129 audio files with a total duration of 9 hours and 18 minutes. All the audio files are of course free. You can download and listen to them, or stream them directly from the site. By listening to many audio files, you will become accustomed to listening to Japanese and prepare yourself for life in Japan. Also, by spending a lot of time on listening input at the beginning, you will be able to connect it to the output activities that follow. After listening to the audio, you will do practice activities including understanding the general content, shadowing, and role-playing, so that you can actually use the Japanese.
The practice flow is designed using the latest teaching methods and second language acquisition theory, so teachers can just follow the structure of the textbook when conducting classes. Even teachers without much experience can proceed smoothly without much difficulty.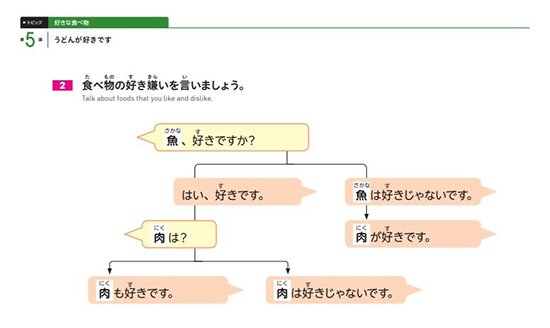 Includes authentic materials actually used in Japan!
Reading and writing activities in Irodori are based on authentic or quasi-authentic materials that are actually used in daily life in Japan, such as store menus and advertisements, street signs, and screenshots of social media and messaging tools. So, you can increase your Can-dos in close-to-real-life situations.
In addition to the authentic materials, Irodori has many color photographs and illustrations. The visually-appealing, fun pages help motivate learners.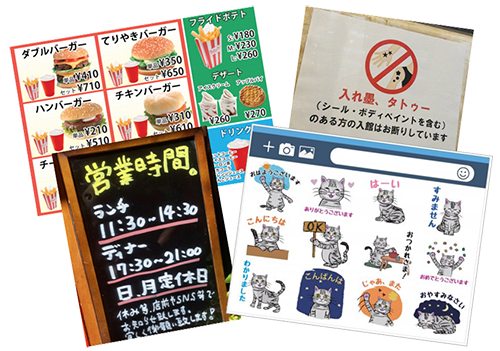 Many real phrases!
Irodori aims to help learners live in Japan so it features many Japanese phrases that are often used in Japanese daily life. For example, most elementary level textbooks only teach the negative verb form of "V-ません," but Irodori also teaches "V-ないです" from the beginning. This is because "V-ないです" is used more often than "V-ません" in daily conversation. In addition, from the beginning of Starter, you will hear many conversations in which people speak in the plain style without using "です" and "ます." Moreover, many colloquial and casual phrases such as "すいません" and "見れる" are also used. Because such Japanese is often used during life in Japan, you will be able to hear and understand these phrases from an early stage. These are unique features of Irodori and are useful for learning how to communicate in a real Japanese environment.
Enough support to learn language knowledge, such as grammar!
There is sometimes a misconception that because Irodori is a textbook with Can-do goals, then grammar will not be covered properly. However, Irodori covers a lot of grammar. In each lesson's activities, you will focus on the grammar and expressions used to achieve the Can-do. You will consider the meaning and usage of those phrases on their own, and discover the rules of Japanese. Rather than a one-sided explanation by a teacher, this system allows learners to learn grammar more deeply by thinking and noticing the rules of form and usage.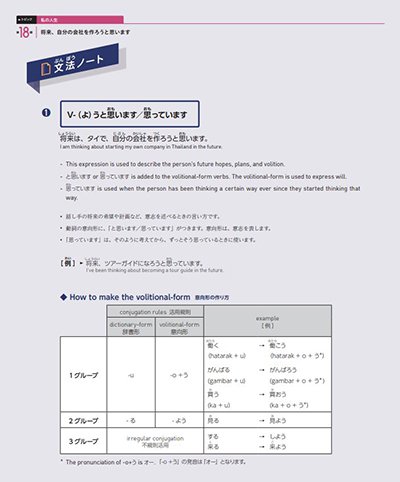 In addition to grammar, there is also a section for studying kanji. In Irodori, you will learn a total of 429 kanji characters in the Starter, Elementary 1, and Elementary 2 parts. All the kanji are used in conversations and/or reading comprehension passages, so you can learn them while thinking about their meanings in context.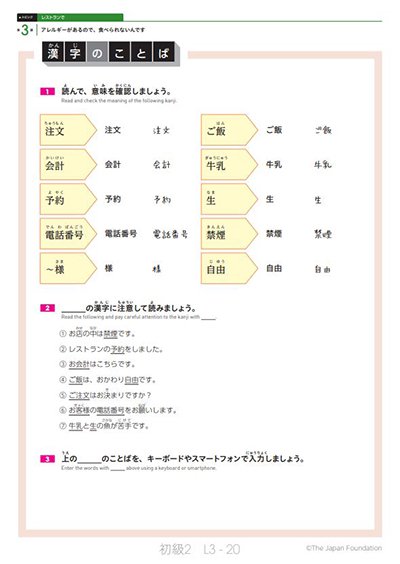 Many columns on Japanese life and culture!
At the end of each lesson, there is a column called "Tips for life in Japan," which introduces various topics about Japan using many photographs. There are explanations of Japanese food, tourist destinations, annual events, etc., as well as manga, anime, literature, sports, J-POP, and more. There are also explanations of how to take the bus, use the restroom, and use a karaoke box. You will learn about Japanese culture and context, and gain useful knowledge for living in Japan. You can read the columns in connection with Japanese language activities in class, or simply use the columns for writing articles introducing Japan.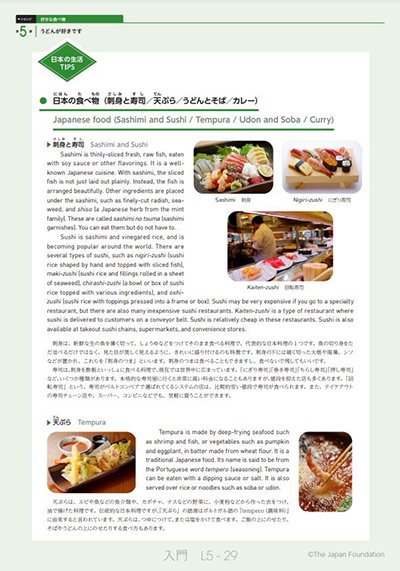 Irodori

can be used with

Marugoto

!
Irodori can serve as a companion volume to Marugoto: Japanese Language and Culture, another Japanese language textbook by the Japan Foundation. Marugoto is mainly aimed at people overseas who are interested in learning Japanese language and culture, and is available up to the intermediate level (B1). On the other hand, Irodori is designed for people who live in Japan and aims to help them acquire basic Japanese language skills up to the elementary level (A2). Irodori and Marugoto can be used together because the topics and grammar points of each lesson are loosely connected.
For example, as a supplement to Irodori, you can use websites such as MARUGOTO+ (MARUGOTO Plus) or the Marugoto course of JF Japanese e-Learning Minato. Conversely, when teaching Marugoto, teachers can use activities from Irodori, or have students read "Grammar Notes" and "Tips for life in Japan."
Also, if you have completed Irodori up to Elementary 2 and want to continue your study, you can move onto the pre-intermediate and intermediate levels of Marugoto to continue your learning smoothly. You can greatly expand your teaching possibilities by skillfully combining different parts of Irodori and Marugoto.
The world of

Irodori

continues to expand!
The Irodori textbook has been completed in three parts, Starter, Elementary 1, and Elementary 2, but other resources such as the sentence patterns list and kanji list are also continually uploaded onto the Irodori website. There are also plans to release a vocabulary list, teaching videos, and more in the future. In addition, the Japan Foundation's overseas offices and other organizations are working to produce editions in other languages. Some of them have already been completed and are available for use.
Editions in other languages – Irodori: Japanese for Life in Japan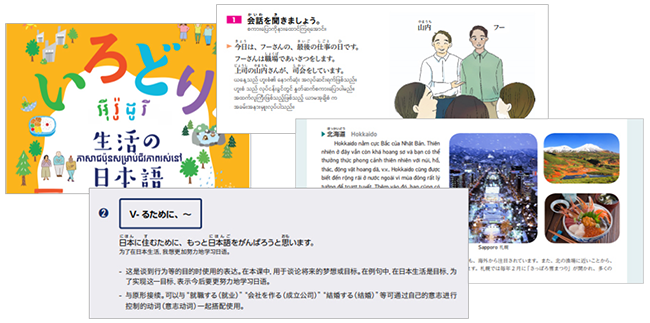 In addition to this, the copyright of Irodori allows the textbook material to be freely adapted and shared.1 Because of this, as soon as Irodori was published, teachers from all over the world have been creating their own teaching materials and sharing them on the Internet. Examples include PowerPoint slides for classes with PDFs and audio attached, PDFs with romaji added to the main text, and translations of "Tips for life in Japan" into other languages, which are now available on Twitter as well as the Forum in the "Minna no Kyozai" website.2 In addition, on Twitter, people are using the tags #irodorijp and #いろどり to report on their classes and share their impressions of using Irodori. Irodori connects teachers from around the world and enables them to share teaching materials and methods.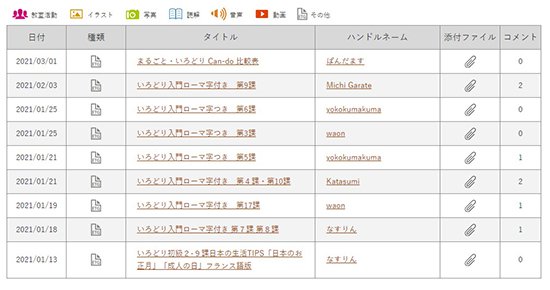 Materials related to Irodori uploaded to the Minna no Kyozai website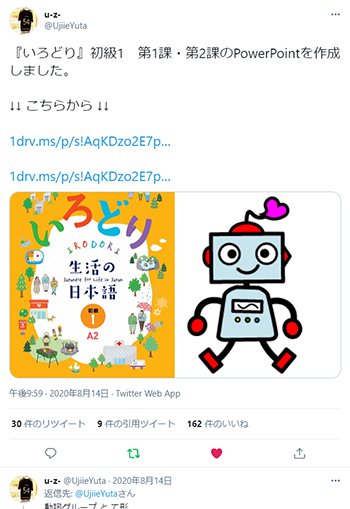 PowerPoint slide by u-z-(@UjiieYuta)
The Japan Foundation Japanese-Language Institute, Kansai is currently working on creating the "IRODORI Japanese Online Course," an e-learning site where students can learn Irodori online, and plans to start the Elementary 1 (A2) course in May 2021. The world of Irodori is expanding rapidly. We hope you will download the textbook and see the world of Irodori!
Notes:
1.

For copyright details, please refer to "Copyright and usage guidelines" in "About this site."

2.

"Minna no Kyozai" is a members-only site, so first-time users need to register as members.
(ISOMURA Kazuhiro, FUJINAGA Kaoru/Lecturer, Japanese Language Institute, Urawa)