IRODORI Japanese Online Course Elementary 1 (A2) Is Now Open!
日本語教育ニュース

このコーナーでは、国際交流基金の行う日本語教育事業の中から、海外の日本語教育関係者から関心の高いことがらについて最新情報を紹介します。
August,2021
The Japan Foundation Japanese-Language Institute, Kansai
The IRODORI Japanese Online Course is the online course version of Irodori: Japanese for Life in Japan, the Japanese language coursebook for acquiring basic Japanese language communication skills that are needed to live and work in Japan. Anyone can register and take the lessons for free. Since the course can be taken using smartphones, computers and tablets, you can use your spare time to study Japanese anytime, anywhere.
In this article, we will show the features of the IRODORI Japanese Online Course (IRODORI Course) and how to use it.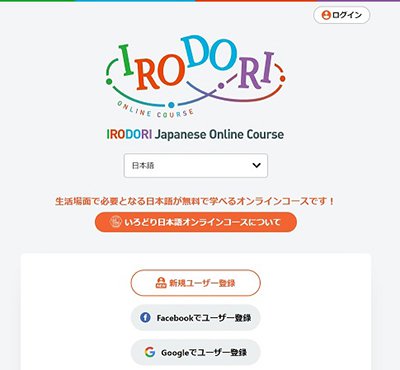 Top page
Features of the IRODORI Course
You can register as a user and take the course for free.
You can learn the Japanese language you need for daily life in Japan using videos and plenty of illustrations and audios.
Since lessons can be taken on your smartphone, computer or tablet, it is also good for studying in your spare time.
Course contents
The IRODORI Course is broadly made up of two types of content: Study contents and Practice contents. Moreover, there are support contents that support self-studying, and a My Page where the progress of studies can be checked and learning achievements can be viewed.
You can take the test once you've finished with all the Study contents. A certificate of course completion will be issued if you score 80 points or more on the test.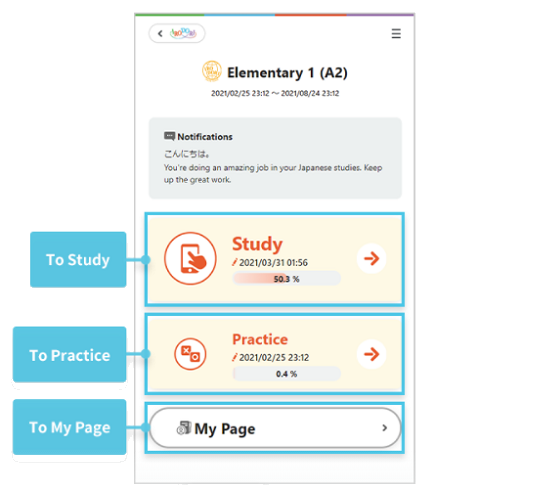 Study contents
The Study contents are for studying Japanese in line with Can-do goals based on the syllabus of Irodori: Japanese for Life in Japan. You can acquire the basic Japanese language communication skills required for daily life situations in Japan. For each Can-do goal, studying proceeds in order from STEP 1 to STEP 6.
STEP1

 Know Your Goals, Prepare

Check the topic, Can-do goal and situation

STEP2

 Preparation for the Words

Listen to the audio and practice saying the words necessary to achieve the Can-do

STEP3

 Listen/Read, Recognize

Listen to the conversation or read the material, such as social media posts or notices, to understand the content and note the expressions and sentence patterns

STEP4

 Try Using

Practice speaking as a character in the video or write social media posts, and such

STEP5

 Review

Review the lesson with a quiz

STEP6

 Can-do Check

Check if you were able to reach the Can-do goal
In the Study contents, you can watch videos of original dramas especially made for the IRODORI Course and set in everyday Japanese life. In STEP 1, you can check the situation through a video, while in STEP 4, you can practice speaking as a character in the video. Hence, you can get an idea of what life is like in Japan while studying.
STEP3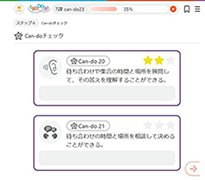 STEP6
Practice contents
The Practice contents consist of original IRODORI Course content where you can practice on the following categories: Words, Kanji, Grammar and Expressions, which you learned in the Study contents. You can also choose the practice method in each of these categories, such as flashcards, typing and choosing problems, so that you can focus and practice on areas where you want to practice more or gain more confidence. After practicing once, you can also choose to practice only on the problems that you got wrong.
◆Words
◆Kanji
◆Grammar
◆Expressions
The Practice contents are available in an Android app called IRODORI Practice. You can study offline by downloading the app to your smartphone. This will allow you to easily practice without stress even with unreliable internet connections.

Android app,
IRODORI Practice



Top screen of the app




IRODORI Practice install page
Study support contents
Unlike in the classroom, online courses don't always have someone who can immediately answer your question when something is unclear. You may be worried if you can study on your own. In the IRODORI Course, we have prepared a variety of study support contents so that you can look up words and refer to grammar and other resources by yourself. You can continue to learn and deepen your understanding by making the most of these study support contents.
◆Support for each Study content
Using buttons at the top right of Study contents pages, you can read explanations depending on the study topic. For example, in the Listening Practice and Reading Practice in STEP 3, you can read explanations of new words, important words, expressions that appear, as well as useful life information related to the topic in the "Tips for life in Japan."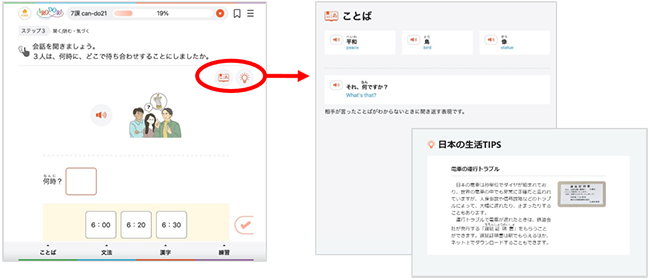 Explanations of words / Tips for life in Japan
◆Support for each lesson
Using buttons at the bottom section of Study contents pages, you can quickly check the meanings and explanations of Words, Grammar, and Kanji learned in that lesson.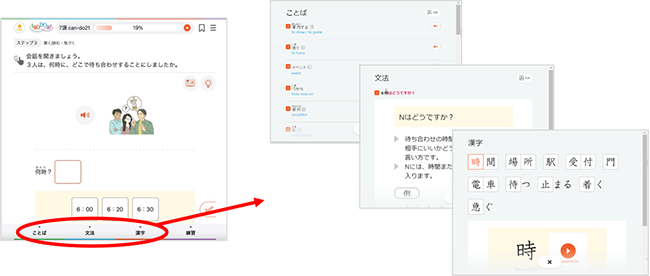 ◆Overall support
You can always refer to the course content list, vocabulary list, grammar references, and other materials of the course. These materials can be accessed not only from Study contents pages but also from Practice contents pages. There is also a word search function where you can look up the meaning of words and how to use them.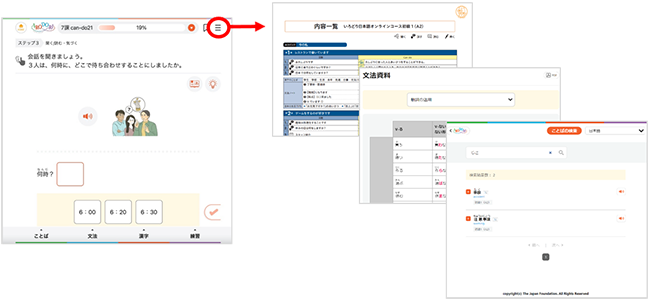 Course content list / Grammar references / Word search
My Page
On My Page, you can check how your studies are progressing, revisit what you wrote in the course of your studies in a portfolio, and review your saved Can-do checks. Seeing your learning achievements so far helps you go forward with your studies at your own pace. Moreover, after completing all the studies for a topic, you will receive a wonderful award on My Page!



Study progress page




Portfolio
Levels and languages of explanation
The following table shows the levels and languages of explanation available.
Level
Language of explanation
Elementary 1 (A2)
Japanese, English
Elementary 2 (A2)
Japanese, English
(Scheduled to open on October 2021)
*Only Japanese and English versions are currently available. We plan to offer courses in Chinese, Indonesian, Khmer, Mongolian, Myanmar, Nepali, Thai and Vietnamese in the future. (Scheduled opening for Elementary 1: April 2022, Elementary 2: October 2022)
Using IRODORI Course in classroom settings
The IRODORI Course was a course designed for self-studying learners, but it can also be used in combination with classroom learning using the Irodori coursebook.
For instance, there may be students who want to review on their own because they feel that they can't remember the words or want a bit more practice on the grammar they just studied in the classroom. In these cases, the Study contents and Practice contents, as well as the IRODORI Practice app, can be used to focus on reviewing the areas where they want to practice a little more. Inside the classroom, the course can also be used as part of class activities, such as by using the videos to understand the situations and topics or to practice speaking. Furthermore, teachers may also use the course for a flipped classroom, with students asked to study the IRODORI Course by themselves before class and teachers conducting mainly practice conversations in the classroom. We believe that the range of classroom activities can be further expanded with the use of the IRODORI Course together with Irodori in class.
We hope that people interested in Japanese language necessary for daily life situations in Japan will be able to enjoy learning through this course.
For inquiries, please use the Contact page at the IRODORI Japanese Online Course. Share with us your comments, suggestions, and how you use it in the classroom.
References
(ADACHI Shoko/Japanese education specialist, Japanese-Language Institute, Kansai)