Asian Contemporary Artist Solo Exhibition Series Ⅰ


Heri Dono: Dancing Demons and Drunken Deities
Exhibition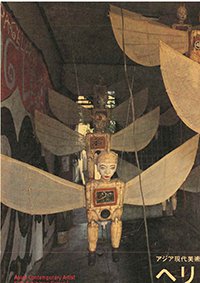 Kicking off a series of three solo exhibitions of Asian contemporary artists, this exhibition featured the Indonesian artist Heri Dono, known for his humorous installations and artworks that incorporate elements of traditional Javanese arts such as wayang shadow puppet theater and reflect his acutely critical viewpoint on Indonesia's social situation. Curated by the important Thai art historian/curator Apinan Poshyananda, the exhibition was held at the Japan Foundation Forum.
Data
Dates & Venue
(Tokyo)

October 14–November 18, 2000

The Japan Foundation Forum

Curators

Apinan Poshyananda (Associate Professor, Chulalongkorn University)

Artists

Heri Dono

Organizers

The Japan Foundation Asia Center

Related Programs

Symposium "Welcome to Heri Dono's World"


October 14, 2000 / The Japan Foundation Forum / Participants: Heri Dono, Jim Supangkat, Ozawa Tsuyoshi / Moderator: Apinan Poshyananda
---
Catalogue
Heri Dono: Dancing Demons and Drunken Deities
Edited by Furuichi Yasuko
Publisher:

Tokyo: The Japan Foundation Asia Center

Year:

Total Number of Pages:

Size:

Series Title

Asian Contemporary Artist Solo Exhibition Series; 1

Language:

Japanese (jpn); English (eng)

NCID:
[Contents]
p. 4

Foreword

p. 5

ごあいさつ

p. 11

逆さまの思考でロジックを見つめる

p. 15

ヘリ・ドノ─風変わりなダラン、ジャワの手仕事師(ブリコルール)、ロー・テクの魔術師(ウィザード)

p. 33

コンテクスト(文脈)

p. 41

ヘリ・ドノのパラドクス─矢と短剣クリス

p. 49

Plates

p. 82

Watching the Logic through an Upside-down Mind

p. 84

Heri Dono: Bizarre

Dalang

, Javanese

Bricoleur

, Low-Tech Wizard

p. 98

Context

p. 105

Dono's Paradox: The Arrow and the Kris

p. 112

Biography

p. 115

List of Works

p. 118

Notes on Contributors
【PDF】
Heri Dono: Dancing Demons and Drunken Deities
*Please note that the text and data on this website are replicas of original publications made by the Japan Foundation. These may have been subsequently adapted, revised or updated by the authors or third-party publishers.