Nihongo "Wai-Wai" Katsudo-shu for students learning Japanese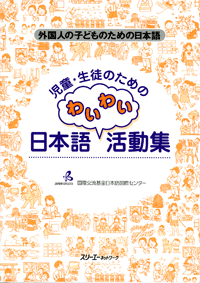 This is an activity book for a Japanese class, intended for students who are learning Japanese and who are becoming increasingly diversified. We have selected 105 activities from "Kyōkasho o Tsukurō - Renshū Hen" (revised version) that can be used in a small sized class. The first part of this book contains "activities in order to acquire vocabularies and sentence patterns" and in the latter part, students have a chance to be involved with "comprehensive activities". The book comes with a CD that includes songs, stories and conversations related to the activities.
This book aims not only for students to get the knowledge of Japanese language, but also to experience communication in Japanese by putting themselves into a situation of expressing themselves and understanding each other in Japanese.
Special attention is made to encourage a communication both ways, be it among students or between students and teachers, in which they are able to feel "Wai-wai", or lively as the title suggests. Special attention was also paid to include various activities such as ones with games, ones which require several abilities of listening, reading, speaking and writing, and ones very close to real-life situations.
In each activity page, you are provided with the procedures for each activity, conversation examples, and worksheets for students with full of illustrations. We hope that this activity book would help making studying Japanese as enjoyable as possible.
Price: ¥2,500(tax excluded)
ISBN: 4-88319-357-8
B5 size280 pages (Attachment :Worksheets and CD)
Publisher: 3A Corporation
Shoei Bldg, 2-6-3 Sarugaku-cho
Chiyoda-ku, Tokyo 101-0064
TEL: 03-3292-5751 / FAX: 03-3292-6195 / E-mail
Sample Page