Japonismes 2018

Japonismes 2018: les âmes en résonance was an extensive cultural season showcasing Japanese culture held in Paris and other parts of France for eight months from July 2018 to February 2019. It included 101 Official Program events, four Tandem Paris-Tokyo 2018 Program events, and 204 Associate Program events, and attracted a total of over 3.5 million visitors.
Official website https://japonismes.org/en/
Background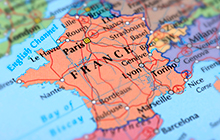 iStock.com/omersukrugoksu
The idea of holding a Japan exposition overseas that would present Japanese arts and culture to the world was proposed during three meetings between October 2015 and April 2016 of the "Beauty of Japan" Comprehensive Project Advisory Panel chaired by the late actor Masahiko Tsugawa and organized by Prime Minister Shinzo Abe. Prime Minister Abe then suggested the idea to H.E. Mr. François Hollande, President of the French Republic, at the Japan-France Summit Meeting in May 2016. During the summit, the two leaders confirmed their agreement to hold a large-scale event showcasing the essence of Japanese culture in Paris and other parts of France in 2018, the year marking the 160th anniversary of Japan-France diplomatic relations. Under this agreement between the two nations, an extensive cultural season was held in France under the name Japonismes 2018. The Japan Foundation Secretariat for JAPONISMES handled project proposals and administration for Japonismes 2018.
Outline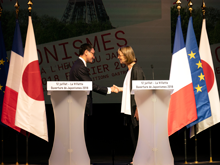 Opening Ceremony for Japonismes 2018
Reverence for nature and respect for harmony between differing values together provide a foundation for the aesthetics that inform Japanese culture, from traditional culture to contemporary culture. Taking such "aesthetics" as a theme, Japanese and French government agencies and related organizations collaborated on this initiative under the title of Japonismes 2018 : les âmes en résonance.
Japonismes 2018 took place from July 2018 to February 2019. The exhibitions presented included art from the Jomon period, which represents the origin of Japanese culture, Rinpa, Itô Jakuchû, and the latest media art, anime and games. Performing arts ranged from Kabuki, Noh, Kyogen, and Gagaku to contemporary theater and Hatsune Miku. There were also a wide range of cultural exchange and other projects that focused on various aspects of culture rooted in the daily lives of Japanese people, including food & saké, film, matsuri (traditional festivals), Zen, martial arts, tea ceremony, and ikebana.
One aim of arranging these projects was to communicate the attractions of various areas of Japan to the people of Paris, and through Paris to the rest of the world. Japonismes 2018 was held in the run-up to the Tokyo 2020 Olympic and Paralympic Games, in the hope that the initiative would lead to growing numbers of people throughout the world gaining interest in Japan, and greater international demand for Japan's superb commodities including food, saké, and craft products.
Japonismes 2018 Official Program
A diverse range of 101 Official Program events were held at over one hundred venues in Paris and regional cities for Japonismes 2018. Through cooperation and coordination with experts and organizations in France and Japan, works and artists of the highest quality from a wide range of eras and various fields were brought together for Official Program events.
Tandem Paris-Tokyo 2018 Program
Four events in the Tandem Paris-Tokyo 2018 conducted by the sister cities of Tokyo and Paris were promoted as Japonismes 2018 events.
Japonismes 2018 Associate Program
The Associate Program consisted of Japan-related events held in France in line with the aim of Japonismes 2018. The Secretariat for JAPONISMES recognized 204 Associate Program events, with which public relations were coordinated through the official Japonismes 2018 website, and other means.
Japonismes 2018 Follow-Up
Japonismes 2018 should not be allowed to fade into the past as a one-off event. In order to further deepen relations between Japan and France, turning Japonismes 2018 into an ongoing initiative, the Japan Foundation organized new personal exchanges between Japan and France, primarily for people who were involved in Japonismes 2018.
Japonismes 2018 Follow-Up
French high school groups visit Japan—"Japonismes: un futur en résonance"
Framework
Framework for Japonismes 2018 (PDF:496KB)
[Contact Us]
The Japan Foundation Arts and Culture Dept. Planning and Coordination Section
Tel: +81-(0)3-5369-6060 Fax: +81-(0)3-5369-6038
E-mail:info-japonismes2018@jpf.go.jp
(When sending an e-mail, please replace the full-width "@" character with a half-width "@" character.)