Exhibition of Media Art from Japan and ASEAN "Media/Art Kitchen – Reality Distortion Field"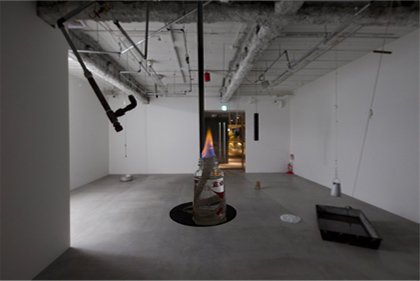 © Umeda Tetsuya "Waiting Room", 2012

In commemoration of the 40th Year of ASEAN-Japan Friendship and Cooperation in 2013, the Japan Foundation organizes a media art exhibition in four countries in Southeast Asia through collaboration among young artists and curators from this region and Japan.
The exhibition and related programs will present interdisciplinary media art in the widest sense of the word and encompass genres such as film, digital video, anime, photography, sound, and performance (physical expression) considering the specific conditions of each venue city; namely Jakarta, Kuala Lumpur, Manila, and Bangkok.
"What is media art?" - A group of young Japanese and Southeast Asian curators jointly refine the concept of the exhibition through surveys and discussions to present today's meaning of media art. The special website has been launched to share the process leading up to the exhibition and discussions with wider audiences.
Exhibition Periods and Venues
Jakarta (Indonesia)

| | |
| --- | --- |
| Period | September 5 - 15, 2013 |
| Venues | Galeri Nasional Indonesia; Kineforum (Screening Program) |
Bangkok (Thailand)

| | |
| --- | --- |
| Period | December 21, 2013 - February 16, 2014 |
| Venue | Bangkok Art and Culture Centre |
Curators
Indonesia
Ade Darmawan  Director, Ruangrupa
M. Sigit Budi. S  Director, Serrum
Malaysia
Adeline Ooi  Independent curator / writer
Suzy Sulaiman  Director, Digital Art + Culture Festival (DA+C) / Lecturer, Limkokwing University
The Philippines
Dayang Yraola  Collection Manager, University of the Philippines Center for Ethnomusicology
Lian Ladia  Independent curator / writer
Thailand
Pichaya Suphavanij  Head of Exhibition Section / Curator, Bangkok Art and Culture Centre [BACC]
Nikan Wasinondh  Independent curator
Singapore
Charmaine Toh  Programme Director, Objectifs Centre for Photography and Film
Vietnam
Nguyen Trinh Thi  Director, Hanoi DOCLAB
Japan
Okamura Keiko  Curator, Tokyo Metropolitan Museum of Photography
Aida Daiya  Chief Educator, Yamaguchi Center for Arts and Media [YCAM]
Hattori Hiroyuki  Curator, Aomori Contemporary Art Centre [ACAC], Aomori Public University
[Contact Us]
The Japan Foundation
Asia and Oceania Section, Arts and Culture Dept.
Tel: +81-(0)3-5369-6062
Persons in charge: Furuichi (Ms.) / Suzuki (Ms.)
E-mail: Yasuko_Furuichi@jpf.go.jp;  Keiko_Suzuki@jpf.go.jp
(When sending e-mail, please enter a half-width character "@" instead of a full-width character "@.")
[Press Contact]
The Japan Foundation
(Att: Masako Taira, TAIRAMASAKO PRESS OFFICE)
Tel: +81-(0) 90-1149-1111
E-mail: info@tmpress.jp
(When sending e-mail, please enter a half-width character "@" instead of a full-width character "@.")