Fujima Kanjuro to direct International Dance Project "MAU: J-ASEAN Dance Collaboration"
Project Outline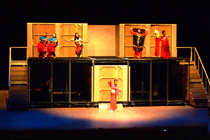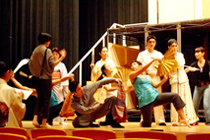 Rehearsal in August, 2013, held in Japan
To celebrate the 40th Anniversary of ASEAN – Japan Dialogue relation in 2013, The Japan Foundation will present a performance project "MAU: J-ASEAN Dance Collaboration" with having participation of dances and musicians from Indonesia, Malaysia, Philippines, Singapore and Japan. All the performers invited to the project, selected with the advice of specialists in each country, are young dancers and musicians having background in traditional performing arts.
Mr. Kanjuro Fujima, the head of Soke-Fujima-Ryu Nihon Buyo dance school, is an artistic staging director. By using eatrical technique and artistic effects of KABUKI, one of the most sophisticated art forms of Japan with over 400 years of history, to connect each country's dance and music, the project aims to propose and introduce a method of presentation which highlights the aesthetics of each traditional art without losing their intrinsic character and values.
Performers have been preparing the show by attending a pre-workshop to have been held in Tokyo in June, and a full-scale rehearsal in a theater hall with set prthe thop held in Fujimi city, Saitama in August. The performance group will tour to Jakarta, Manila, Kuala Lumpur and Singapore in November.
The title "MAU" means "to dance" and was given by Mr. Kanjuro Fujima especially for this show.
We hope that the audience in each country enjoys the Japan meets ASEAN at the Dance Collaboration Tour.
Read an interview with Fujima Kanjuro in Wochi Kochi Magazine
『MAU: J-ASEAN Dance Collaboration』 Tour Schedule
Jakarta (Indonesia)
Manila (Philippines)
Kuala Lumpur (Malaysia)
Singapore
Artistic Staging Director
Fujima Kanjuro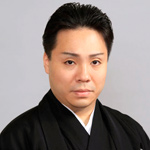 Born in 1980, Fujima Kanjuro is a Kabuki choreographer. He is the head of the Soke Fujima Ryu: Fujima School of traditional Japanese dance (Nihon buyo). His grandfather, Fujima Kanjuro IV was the highly acclaimed choreographer and dancer who was eventually recognized as "Living National Treasure" by the Japanese government and whose oeuvre included a large number of prominent works. His mother Fujima Kanso III, is also an active Kabuki dance choreographer. In 2002, at the age of 22, he formally received the Kanjuro name, becoming Fujima Kanjuro VIII. He received the Minister of Education, Culture, Sports, Science and Technology Art Encouragement Prize's New Artist Award in 2003. . In 2012, he was awarded by Japan Arts Foundation for his contribution to the traditional arts.
Official website of Fujima Kanjuro
<Performing Arts Network Japan, Artist Interview>
https://performingarts.jpf.go.jp/E/art_interview/0603/1.html
[Contact Us]
The Japan Foundation
Asia and Oceania Section, Arts and Culture Dept.
Contacts: Takeda, Endo, Yamashita
Tel: +81-(0)3-5369-6062 FAX +81-(0)3-5369-6038
E-mail: Q_asia_oceania@jpf.go.jp
(When sending e-mail, please enter a half-width character "@" instead of a full-width character "@.")