"MAU: J-ASEAN Dance Collaboration": Performers and Staff
Performers
| | |
| --- | --- |
| Ni Ketut Widiastini | LKB Saraswati |
| Anak Agung Ayu | LKB Saraswati |
| Ni Luh Ayu Maharani | LKB Saraswati |
| Sarah Putrianti Hakindon | LKB Saraswati |
| Shanti Wiandra Putri | LKB Saraswati |
| | |
| --- | --- |
| Rhosam Prudenciado Jr. | Airdance |
| Mia Cabalfin | Airdance |
| Jed Jumilla Amihan | Airdance |
| Chantal Primero | Airdance |
Nuur Faliza Binti Saad
ASWARA Dance Company
Rabiatul Adawiah Binti Abdul Wahid
ASWARA Dance Company
Mohd Ridhuan Bin Hj Abd. Zateh
Musician
Mohd Shafic Aminuddin Bin Hussin
Musician
Muhammad Radzi Abdul Wahid
Musician

Mohd Fared Bin Ramli




*only took part in a rehearsal in Tokyo

Musician
| | |
| --- | --- |
| Lin Shaoling | Siong Leng Musical Association |
| Hong Ruwang | Siong Leng Musical Association |
| Susan Koh | Siong Leng Musical Association |
| Miko Huang | Siong Leng Musical Association |
| | |
| --- | --- |
| Fujima Aya | SokeFujima-Ryu |
| Fujima Kanhiromai | SokeFujima-Ryu |
| Fujima Kotobuki | SokeFujima-Ryu |
| Sawamura Kuniya | Kabuki Actor |
| Umeya Tomoe | Japanese Percussionist |
| Umeya Ukon | Japanese Percussionist |
Indonesia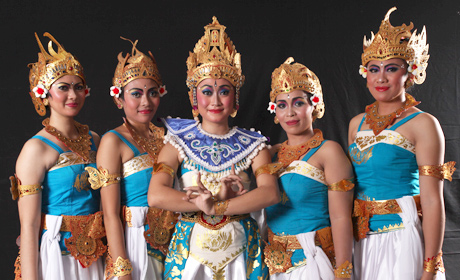 (from the left) Sarah Putrianti Hakindon / Anak Agung Ayu / Ni Luh Ayu Maharani / Ni Ketut Widiastini / Shanti Wiandra Putri
LKB Saraswati
LKB Saraswati (Lembaga Kesenian Bali Saraswati, Saraswati Bali Arts Institute) was established in 1968, Jakarta.
LKB Saraswati has several branches for teaching Balinese traditional dance and Balinese percussion music, gamelan.
Since its establishment, they have performed over 1,500 stages at home and abroad including Japan, China, Australia, North America and Germany.
Besides they have collaborated with jazz and contemporary musicians.
In addition to the traditional music, they are actively making collaboration with music, such as jazz and contemporary.
Philippines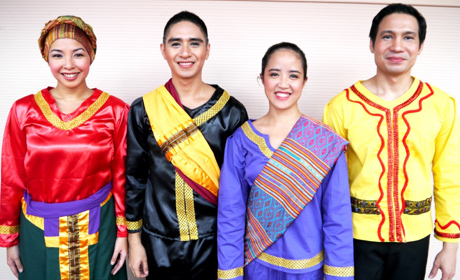 (from the left) Mia Cabalfin / Rhosam Prudenciado Jr. / Chantal Primero / Jed Jumilla Amihan
Founded in 2001, one of the Philippines' pioneering Contemporary Dance companies.
The company is a product of the coming together of dance artists with varied backgrounds from classical and modern ballet, to jazz and ballroom, to hip-hop, martial arts etc.
Airdance continues to perform locally and internationally in festivals, collaborations and other events. The company has represented the Philippines at the World Expo in Japan and at the Asia Arts Festival in China. Dancers with a great deal of traditional dance are selected for the "MAU: J-ASEAN Dance Collaboration".
Malaysia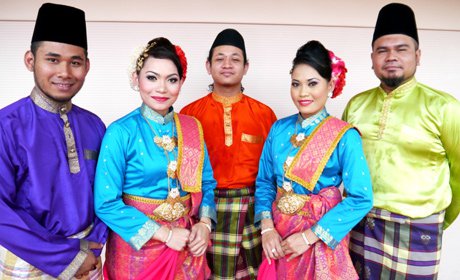 (from the left) Mohd Fared Bin Ramli (*only rehearsal in Tokyo) / Rabiatul Adawiah Binti Abdul Wahid / Mohd Shafic Aminuddin Bin Hussin / Nur Faliza Binti Saad / Mohd Ridhuan Bin Hj Abd. Zateh
ASWARA Dance Company
Aswara Dance Company (ADC) is a professional dance company established in 2011, specializing in traditional and contemporary Malaysian dance performance and choreography. ADC comprises graduates of the Faculty of Dance ASWARA who are trained in the unique multicultural syllabus striving for excellence in multiple genres of dance that reflect the multiple identities of Malaysia.
*ASWARA(Akademi Seni Budaya & Warisan Kebangsaan) =National Art Culture and Heritage Academy is the only higher learning institution in performing area which is fully supported by Malaysian Government under the Ministry of Unity, Cultural, Art and Heritage Malaysia.
Musicians who take part in this project are graduates of the Faculty of Music ASWARA.
Singapore

(from the left) Hong Ruwang / Ling Shaoling /Miko Huang / Susan Koh
Siong Leng Musical Association was established in 1941 in Singapore to preserve, develop, and promote Nan Yin (which literally means "The Music of the South") which is the traditional music listed by UNESCO as Intangible Cultural Heritage as well as Li Yuan Opera, the traditional play
In 1983 Siong Leng participated in the Llangollen Musical Eisteddfod in Wales and won the Third Prize in Folk Song Solo and the Fourth Prize in Ensemble Performance. In 1987, former chairman Teng Mah Seng received the Cultural Medallion, Singapore's highest honor for artists, for his work in the field of music.
Japan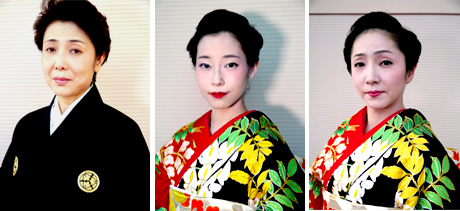 (from the left) Fujima Aya / Fujima Kanhiromai / Fujima Kotobuki
Traditional school of Nihon Buyou (traditional Japanese dance) with 300 years of time-honored history, founded in 1704 by Fujima Kanbei I. The Fujima School is a one of the five largest schools.
Sawamura Kuniya
(Kabuki Actor, Name of the school: Kinokuniya)
Before he became Kabuki Actor, he used to perform in the production of Children's Theater. He made a debut at Kabuki-za, the principal theater in Tokyo for the traditional kabuki in1988. He became a disciple of the Kabuki actor Sawamura Tojuro in 1995. Given a stage name "Sawamura Kuniya"in the same year. He received the Encouragement Award of Japan Actors Association (Nihon Haiyu Kyokai) 2012.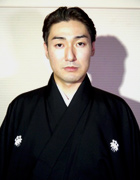 Sawamura Kuniya
Japanese Percussionists (Hogaku Hayashikata)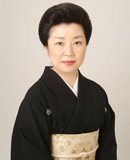 Umeya Tomoe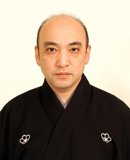 Umeya Ukon
Staff
outline
Japan
Hisashi Ito
Producer
Fujima Kanjuro
Director, Choreograph, Staging (Soke Fujima-Ryu)
Wasuke
Assistant Director
Kumiko Arai
Dressing
Yuichi Udagawa
Hair and Make up
Indonesia
Tinton Prianggoro
Production Manager,Technical Director
Wira Satya Aryosha
Stage Manager
Ricco Syaiful Arif Fadhillah
Lighting Designer
Andy Nugeraha
Sound Engineer
Marlina Priyanti Sudomo
Makeup, dress coordinator
Singapore
Goh Ching Lee
Co-producer of Singapore
Annie Pek
Production coordinator
[Contact Us]
The Japan Foundation
Asia and Oceania Section, Arts and Culture Dept.
Contacts: Takeda, Endo, Yamashita
Tel: +81-(0)3-5369-6062 FAX +81-(0)3-5369-6038
E-mail: Q_asia_oceania@jpf.go.jp
(When sending e-mail, please enter a half-width character "@" instead of a full-width character "@.")