CCA CURATOR MEETING 2013 Let's Talk About Art
September 6 - 8, 2013 at CCA Kitakyushu Access
Outline
Organized by
Nobuo Nakamura, CCA Kitakyushu
Masanobu Ito, The Japan Foundation
Participating curators

Associate Professor of MIT (Cambridge, USA)
Artistic Director of the Jim Thompson Art Center (Bangkok)
Curator (Paris)
Senior Curator of Contemporary Art Center, Art Tower Mito (Mito)
Curator of 21st Century Museum of Contemporary Art, Kanazawa (Kanazawa)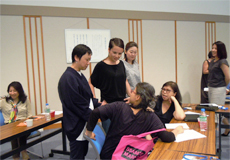 CCA CURATOR MEETING 2012
Photo: Courtesy CCA Kitakyushu
Center for Contemporary Art, CCA Kitakyushu and the Japan Foundation present "CCA Curator Meeting 2013: Let's talk about art," a three-day conference of contemporary art curatorial practice. The curators who are engaged in contemporary art within an international context stay at CCA, and exchange their idea to tackle key questions around museum and curating. In addition to the development and change in the last ten years, the issues which grew out of discussions that took place in The Curator Meetings 2010 – 2012 will be examined.
The first meeting was held in 2010, with four curators specialized in contemporary art at public museum in Japan. For three days, the meeting addressed pressing issues in art world mainly in Japan, such as a role of museum/exhibition, biennale/triennale, economical change, relationship to urban planning. The participants firstly gave an overview on the current situation, and discussed based on their own experience and observation. This kick-off meeting culminated in a publication, "CCA CURATOR MEETING no. 01/2010" (pp.210 / A5 / in Japanese), released in March 2011. The second meeting was held in 2011, with four curators from Japan and four curators from Korea. The participants discussed the questions surrounding contemporary art, emphasizing the issues in Korea and Japan. Then the discussion was extended to the issues of their roles in the art world that has been led by Europe/US. The conference was also resulted in a publication "CCA CURATOR MEETING no. 02/2011 (pp.321 / A5 / in Japanese and Korean), released in March 2012. The third meeting was held in 2012, with the curators who live and work in Asia including Cambodia, Indonesia, Korea, Myanmar, Thailand, Vietnam and Japan. Exchanging the information on each country's situation, the discussion focused on various issues such as the mounting interest in contemporary art in Asia, the gap between Europe and Asia, and how we consider "network." The documentation of the 3rd Meeting was also published as "Curator Meeting no. 03/2012" (pp.196 / A5 / in Japanese and English).
In the 4th meeting of 2013, the emphasis is placed on the international activity. Nowadays curators are asked to work beyond the existing borders and frameworks on a wide range of issues including culture, politics, locality and internationality. The meeting considers the possibility of curatorial project for future, examining the problem and development we experience.
"CCA Curator Meeting" aims to provide with a broad platform for conversation concerning curatorship, and to have idea and exchange that are developed in the course of time, along with the ongoing change in our society. Thus, this meeting strives for new idea not only for an individual activity, but also for the art world as a whole.
Simultaneous interpretation (English – Japanese) is provided throughout the meeting.
Related Information
[Contact Us]
Oyamada (Ms.)
Arts and Culture Department
The Japan Foundation
Tel +81-(0)3-5369-6063