"The Cherry Orchard" is performed in France as part of the International Creations in Performing Arts Program

Opening eyes to something different and encountering others in a radically changing world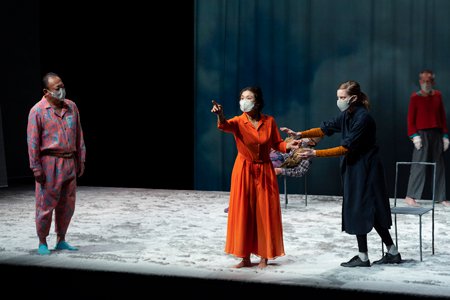 (C) K.Miura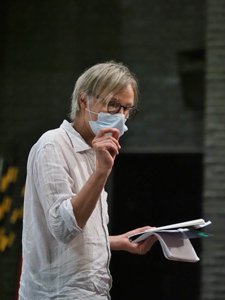 (C) HIRAO Masashi
The Japan Foundation (JF) provides support for collaborative creations between Japanese and international artists through the International Creations in Performing Arts Program. As part thereof, the Japan Foundation plans to perform "The Cherry Orchard" in France. The work was originally produced in 2021 as the Japan Foundation's International Creation in Performing Arts, in collaboration with Shizuoka Performing Arts Center (SPAC) and the French National Dramatic Center, Théâtre de Gennevilliers. It premiered in November through December 2021 in Shizuoka, Japan.
The Cherry Orchard—Anton CHEKHOV's masterpiece that continues to be loved by people worldwide—has been transformed into a whole new theatrical work by a French director, Daniel JEANNETEAU. On the stage, whose setting is shifted to a modern-day world, carefully selected Japanese and French actors perform scenes talking in their native tongues—Japanese and French. Their mutually frustrating conversations bring to light the "difficulties in understanding each other" and give the audience insight into how they can gain "understanding" beyond language barriers.
As the world faces a period of challenges posed by the COVID-19 pandemic and global-scale disasters, the play aims to convey a message that helps the humanity to move forward with hope, by depicting characters desperately trying to overcome tragic situations lying in front of them.
A video of "The Cherry Orchard" Shizuoka performance is now available online with Japanese, English, and French subtitles, on the Japan Foundation's YouTube series "STAGE BEYOND BORDERS".
(Distribution end date: September 1, 2027)
SPAC and T2G "The Cherry Orchard"【EN/FR/JP】 
Click the link below for information on "The Cherry Orchard" performed in 2021 as part of the International Creations in Performing Arts Program.
Support for Collaborative Creations between Japanese and International Artists International Creations in Performing Arts 2021
Performance in Gennevilliers, France
Organized by T2G-Théâtre de Gennevilliers Centre Dramatique National, The Japan Foundation, SPAC-Shizuoka Performing Arts Center
Produced by SPAC-Shizuoka Performing Arts Center, T2G-Théâtre de Gennevilliers Centre Dramatique National
Co-produced by Théâtre des 13 vents CDN Montpellier
Performance in Montpellier, France
Organized by Théâtre des 13 vents CDN Montpellier, The Japan Foundation, SPAC-Shizuoka Performing Arts Center
Produced by SPAC-Shizuoka Performing Arts Center, T2G-Théâtre de Gennevilliers Centre Dramatique National
Co-produced by Théâtre des 13 vents CDN Montpellier
[Contact Us]
The Japan Foundation
Persons in Charge: Shinohara (Ms.), Goshima (Ms.),
Tel: +81-(0)3-5369-6063
E-mail: pa@jpf.go.jp
(When sending an e-mail, please enter a half-width character instead of a full-width character "@.")