Dispatch of Young Japanese-Language Teachers for Ten Months - JENESYS Young Japanese-Language Teacher Dispatch Program -
日本語教育ニュース
このコーナーでは、国際交流基金の行う日本語教育事業の中から、海外の日本語教育関係者から関心の高いことがらについて最新情報を紹介します。
Hiroe Otomo,
Sakura Network Team, The Japan Foundation
    The JENESYS Program -- the Japan-East Asia Network of Exchange for Students and Youths by the Japanese government -- is a large-scale exchange project under which senior high school and college students, teachers and representative individuals in various fields in Asia and Oceania are invited to Japan and Japanese youths are sent to these regions. The Japan Foundation collaborates with the JENESYS Program and conducts several projects. In this issue, we would like to introduce one of these, the JENESYS Young Japanese-Language Teacher Dispatch Program.
    Under the JENESYS Young Japanese-Language Teacher Dispatch Program, Japanese young people who have majored in Japanese-language education in university or who have taught Japanese are sent to Japanese-language education institutions in Southeast Asia and Oceania for approximately 10 months. The program's purposes are to teach Japanese in cooperation with local Japanese-language teachers, introduce Japanese culture, and deepen understanding and interest in Japan, in addition to promoting international understanding among Japanese young people.
    In fiscal year 2008, 48 teachers were dispatched. This year, the total will reach 60, including those already dispatched.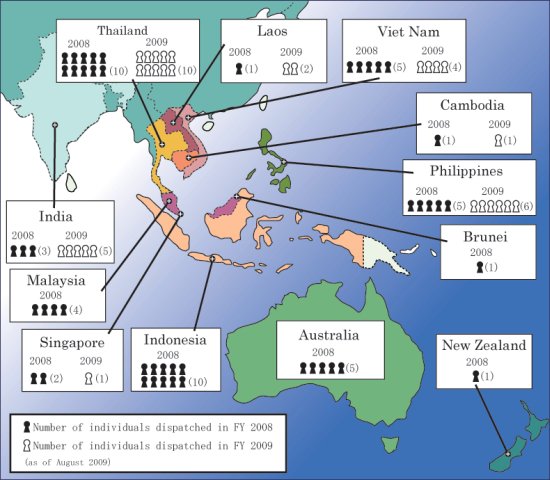 Young Japanese-language teachers are selected through strict screening from a large number of applicants. Prior to dispatch, they receive two weeks of training at The Japanese-Language Institute, Urawa (Saitama Pref.). During training they gain the knowledge and skills necessary to conduct Japanese-language education overseas, including knowledge of the local circumstances of Japanese-language education, Japanese-language pedagogy overseas and methods of culture study. This is designed to raise awareness of their roles. Many non-native Japanese-language teachers stay at The Japanese-Language Institute for training, and the curriculum of young Japanese-language teachers includes speaking with these non-native teachers and planning a Japanese-language lesson with them. This allows them to learn about the actual circumstances of education overseas and to have authentic experience of working with non-native teachers in Japanese-language education. Even when there is no teacher from the country to which they will be dispatched, young Japanese-language teachers are able to imagine the situations they will encounter.
    In addition, local offices of The Japan Foundation support young Japanese-language teachers after dispatch through training and consultation to ensure that the education process proceeds smoothly at their assigned sites.
    We asked four individuals who were sent overseas as young Japanese-language teachers to report on their activities and exchanges with local teachers and students. We hope to see more and more exchanges in coming years.
(All texts translated by Junko Igarashi & Tom Conrad)