Let's Get Connected and Talk More! : "Marugoto" in Many Countries and Languages
日本語教育ニュース

このコーナーでは、国際交流基金の行う日本語教育事業の中から、海外の日本語教育関係者から関心の高いことがらについて最新情報を紹介します。
January, 2022
The Japan Foundation Japanese-Language Institute, Urawa
Marugoto: Japanese Language and Culture (Marugoto) is a series of Japanese language coursebooks based on the framework of the JF Standard for Japanese-Language Education (JFS). Japanese language lecturers at the Japan Foundation held many discussions on how to learn, teach, and evaluate in accordance with the JFS and formed them into coursebooks. After trials using the coursebooks at the Japanese-Language Courses (so called "JF Language Courses") conducted at the Japan Foundation's overseas offices and other locations, a total of nine volumes ranging from Starter (A1) to Intermediate 2 (B1) were published from 2013 to 2017.
In this News article, we will provide the latest information on Marugoto, including new developments in overseas publications and e-book editions, support for learners and teachers through more support materials and resources for teachers via the official portal—the Marugoto site, and the growing use of Marugoto in Japan and overseas.

Overseas publications and e-book editions
The Japanese-English edition of Marugoto is published by SANSHUSHA Publishing Co., Ltd. and is available in Japan and overseas. Overseas editions are also published locally in many countries to encourage wider use of the coursebooks. Table 1 shows the availability of Marugoto publications in other countries as of November 2021. For overseas editions, instructions and other texts in English have been translated into the respective local languages. These editions are also available in some of the neighboring countries or regions.1
For inquiries or purchases, see the Marugoto site for the contact information of publishers in each country.
Table 1. Availability of

Marugoto

publications in other countries
(as of November 2021)
 
Translation language
Starter
Elemen-
tary 1
Elemen-
tary 2
Pre-
Inter-
mediate
Inter-
mediate
1
Inter-
mediate
2
Korea
Korean
 
 
 
 
✓
✓
China
Chinese
✓
CS
CS
CS
CS
CS
Indonesia
Indonesian
✓
✓
✓
✓
✓
✓
Thailand
Thai
✓
✓
✓
✓
✓
 
Philippines
-
✓
 
 
 
 
 
Vietnam
Vietnamese
✓
✓
✓
✓
✓
CS
Malaysia
-
✓
✓
 
 
 
 
Myanmar
Myanmar
✓
 
 
 
 
 
India
-
✓
✓
✓
✓
 
 
Peru
Spanish
✓
 
 
 
 
 
Egypt
Arabic
CS
 
 
 
 
 
Note: ✓ means publication available; CS means publication is coming soon
E-book sales of all nine Marugoto coursebooks began in October 2020. These e-books contain the Japanese-English version and can be purchased from Amazon Kindle or Google Play Books. However, note that depending on the country the e-book editions themselves may not be available for purchase or the purchasing conditions may differ.
Countries where e-books are not available for purchase (neither Amazon Kindle nor Google Play Books): Algeria, Iraq, Libya, Morocco, Palestine, Tunisia and Yemen
Countries where they are not available at the local Amazon website, but can be purchased from Amazon.com: South Korea, Australia, New Zealand, Brazil, India and Mexico
Countries where they are available for purchase only at Google Play Books: Egypt, UAE, Bahrain, Jordan, Kuwait, Oman, Qatar and Saudi Arabia
Support for learners and teachers: more support materials and resources for teachers
Aside from Audio recordings for the Marugoto coursebooks, Support materials such as the Can-do Check and vocabulary index as well as resources for teachers can be freely downloaded at the Marugoto site.2 We are continually working on translating these resources at overseas offices and other locations that conduct the JF Language Course, and they are uploaded at the Marugoto site as soon as they become available.
Table 2. Download materials > Supplementary materials in various languages (as of November 2021)
Marugoto
Supplementary material
No. of languages*
Starter
Word book
13
Can-do Check
15
Vocabulary index
8
Elementary 1
Can-do Check
13
Vocabulary index
10
Elementary 2
Can-do Check
13
Vocabulary index
10
Pre-Intermediate
Can-do Check
13
Vocabulary index
10
Intermediate 1
Vocabulary List
10
Translations of Listening Scripts and Text
5
Learning Record
9
Intermediate 2
Vocabulary List
9
Translations of Listening Scripts and Text
3
Learning Record
8
*For details on translation languages, see the list of Marugoto supplementary materials (versions in various languages) (PDF:54kB)
Our overseas offices also create original resources for Marugoto on their websites. The Japan Cultural Institute in Cologne, Germany, for example, has created self-assessment tables that have been edited into a user-friendly form for teachers in Germany as well as kanji writing practice books that have been in high demand there, all of which are available at the Marugoto German teaching material download page. The Japan Foundation, Toronto in Canada published a collection of materials which can be used with the Marugoto Intermediate B1 level, including digital resources and video links, on a page with the heading Marugoto Teaching Material Project: Collection of Support Materials. This is the result of projects by volunteering Japanese teachers from all over Canada. The first project in August 2020 created and published a collection of support materials for Intermediate 1 (B1), while the second project from June to August 2021 was for Intermediate 2 (B1). Furthermore, at the Minna no Kyozai website dedicated to providing teaching materials to Japanese-language teachers around the world, general users have also posted a collection of Padlet links for teachers using Marugoto in their classes called the Marugoto Benricho Links Page.3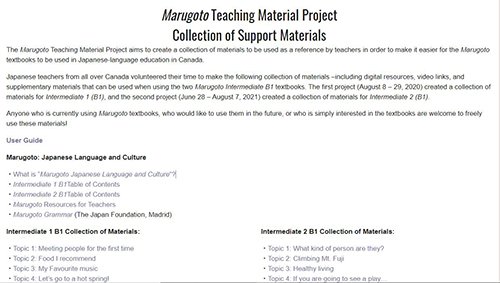 The Japan Foundation, Toronto
Marugoto Teaching Material Project: Collection of Support Materials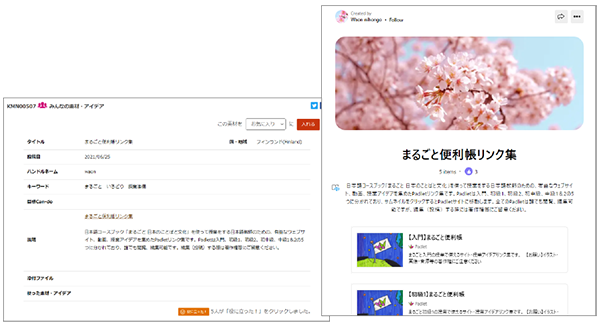 Minna no Kyozai website Marugoto Benricho Links Page posted by general users
Growing use of

Marugoto
Marugoto is widely used in JF Language Courses held at the Japan Foundation's overseas offices and Japan's Centers for Human Resources Development around the world. The JF Language Course began in fiscal 2011 with the aim of promoting and establishing Japanese language education based on JFS and have since steadily increased its class offerings. In fiscal 2020, 13,041 students were studying at 28 locations across the globe, and a total of 161,925 students have taken its classes over the last 10 years.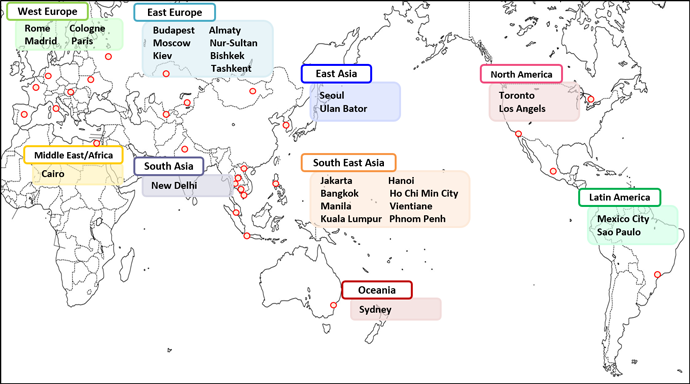 JF Language Course around the world (as of October 2020)
Although Marugoto was originally developed for general adult learners overseas studying the Japanese language for fun learning or to raise their cultural levels, it has come to be used in secondary and higher education in and out of Japan. In Japan, Marugoto was adopted as a textbook in Japanese language courses for short-term international students at J. F. Oberlin University, while the curriculum was greatly changed when they started to use Starter (A1) to Intermediate 2 (B1) as main textbooks at Toyo University. In addition, we have heard of many cases of local communities using Marugoto in Japanese language volunteer classes. Outside Japan, Marugoto is increasingly being used not only at secondary and higher education, but also at private Japanese language schools and human resource placement agencies for learners of Japanese language who hope to come to Japan for employment.
Eight years have passed since the publication of Starter (A1). Outside Japan, Marugoto Seminars that present the Marugoto concept and actual teaching methods are still being actively conducted by Japanese-Language Specialists that the Japan Foundation dispatches overseas. Moreover, Marugoto has served as a launching pad for developments toward providing a place for learning together and communication between teachers. At the previously mentioned Japan Cultural Institute in Cologne, the Marugoto Online Salon had been held twice—once last year and also this year—with over 50 applicants each time, including people from outside Germany. It has served as a place to share ideas implemented in the field as well as to get advice from veteran Marugoto users for people using it for the first time. The Japan Foundation Center for Cultural Exchange in Vietnam launched an online pilot course in September 2020 called Marugoto: Ơi Sensei! ("Ơi" is Vietnamese for calling out to someone) offering a practical course where the students themselves learn Japanese using Elementary–Intermediate (A2–B1) coursebooks and at the same time learn how to teach based on JFS. At the end, the students themselves conduct online trial lessons as teachers. This course attracts participants from highly diverse backgrounds and provides a place to learn from each other for not only teachers already teaching at universities and Japanese language schools but also for students majoring in Japanese who aspire to be teachers and people with previous experience who want to work again as Japanese language teachers. At the Research and Development Section of the Japan Foundation Japanese-Language Institute, Urawa, we are committed to supporting learners and teachers connected by Marugoto all over the world. We will expand the market of the Japanese-English edition and publications of local editions, and provide more resources to make Marugoto easier to teach.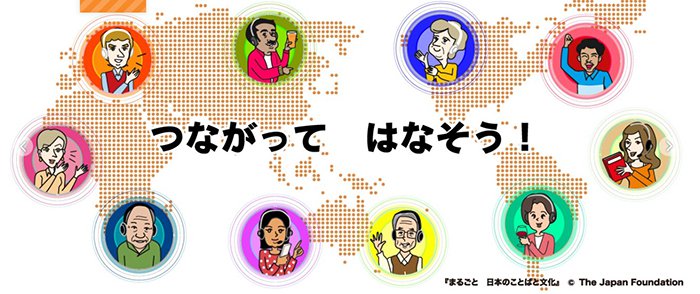 * This image was created for the collaborative action titled "Against COVID-19: A message from the characters of some Japanese language textbooks" (on the webpage of the Center for Distance Learning of Japanese and Japanese Issues, University of Tsukuba).
Feel free to use this virtual background in online meetings, and so on.
Notes:
1.

Overseas editions published in Malaysia and India are also distributed in the following countries. Overseas editions to be published in Egypt will also be distributed in the following countries and regions.

Egypt (Dar Al-Maaref): United Arab Emirates, Algeria, Yemen, Iraq, Iran, Oman, Qatar, Kuwait, Comoros, Saudi Arabia, Syria, Djibouti, Sudan, Somalia, Tunisia, Turkey, Bahrain, Palestine, Mauritania, Morocco, Libya, Lebanon, Jordan

2.

User registration is required to download digital audio files due to copyright protection. Other materials apart from the audio recordings can be freely downloaded without user registration.

3.

The Minna no Kyozai website has a user registration system and requires registration as a user to access its contents.
Reference information on

Marugoto

:
1.

Nihongo Kyoiku Tsushin > Nihongo Kyoiku News

3.

From the field of Japanese language education around the world, fiscal 2021 (Japan Foundation Japanese-Language Specialist's Report)
(HABUKI Miyuki/Lecturer, Japanese Language Institute, Urawa)